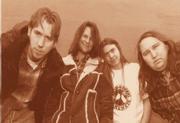 A decade ago, everybody in the music scene knew two things about Manhattan's Truck Stop Love:
It was one of the best rock bands in Kansas.
Its members were a bunch of drunks.
"We wore the beer like a badge of honor," says Truck Stop Love drummer Eric Melin.
"We were very influenced by Minneapolis. For us, Hüsker Dü, Soul Asylum and The Replacements were it, and those three were a model for how you behave in a rock and roll band. You do it by being yourself, being drunk and having an attitude."
"We were young and basically a bunch of losers who liked to get drunk and play music," adds singer-guitarist Matt Mozier, who like Melin has lived in Lawrence since Truck Stop Love disbanded in the late '90s.
Band songs
Truck Stop Love
Mozier says the alcohol not only fueled the group's raucous reputation, but also acted as the unifying factor for its members.
"It prolonged the band - or made the band possible," he says. "It was something that smoothed out the tension. I don't think we could have hung out together if we didn't have that common bond."
Class reunion
That bond led to a national record deal for Truck Stop Love, one of many early '90s acts that took full advantage of the Lawrence/Kansas City region's national buzz during the alternative-rock heyday.
For those whose memories don't extend prior to the cell phone era, here's a bit of history about the way things were: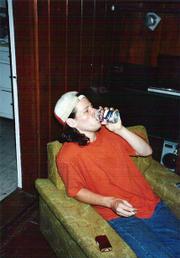 People didn't spend hours on the internet.
They didn't play Halo on their Xbox.
They rarely gathered at dance clubs or listened to DJs.
Instead, they preferred to go out and see live music. Whether it was dainty sorority babes or KJHK hipsters, an evening out usually involved bands.
In industry terms, the Seattle scene had broken wide open, and every label (major and indie) was looking for a city that could generate the same level of talent, both in terms of musical quality and financial success.
Ponytailed A&R guys flocked here in search of The Next Big Thing, and one act after another was inked to a record deal. From local heavyweights Stick, Paw and Kill Creek, to historical footnotes such as Mountain Clyde and Grither, everybody appeared to be reaping the rewards of the moment.
"It was pretty strange," Mozier recalls. "We had been a band for a year or so. Then the whole major-label recognition of Kansas came. All these labels started calling us almost before we had an idea of what we were doing."
Upcoming shows
Truck Stop Love
Those who aren't just content to live with their fond recollections of a bygone time will have the rare opportunity this week to witness Truck Stop Love in all its soused splendor. TSL is performing three reunion showcases - in Lawrence, Manhattan and Kansas City - with all the original members returning to participate.
Melin says the impetus for a reunion came after his longtime trio Ultimate Fakebook split earlier this year.
"After Fakebook broke up I saw Matt, and he said, 'So what are you gonna do now, a Truck Stop Love reunion?' Since Matt was the first one to quit, we always thought he was the one guy who would never want to do it. But he was the first one to ask about it."
Melin, Mozier and bassist Brad Huhmann have preparing diligently, while guitarists-vocalists Rich Yarges and Jim Crego (who replaced Mozier in the second version of the lineup) will trek in from Minneapolis.
For the live show, two-thirds of the set will be performed with Mozier and one-third with Crego.
"We tried to pare it down and just do the songs that people would know who are casual fans of the band," Melin explains. "But there are at least one or two songs from early demos before the EP even came out. Then there are a lot of notorious ones that we couldn't seem to leave off. Right now we're sitting at 25 songs."
'Surreal from the beginning'
The core membership of Truck Stop Love first came together in Manhattan in 1991. The band initially drew awkward comparisons to such jangly contemporaries as Gin Blossoms and R.E.M., but that was only because the Americana/No Depression sound had yet to be identified, let alone understood by the music industry.
"I remember hearing Uncle Tupelo's 'Still Feel Gone' after we had started and thinking, 'These guys are sort of kindred spirits,'" Mozier says.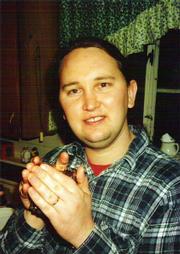 In layman's terms, it meant a dose of heavy guitars mixed with an undeniably earnest, rural bent to the songwriting. This was best characterized in TSL anthems such as "River Mountain Love" and "Townie" (a tune that "everybody always wanted to know who it was about," states Melin).
By 1993, the act was known for its memorable songwriting and energetic but often inconsistent live shows. As the ensemble's profile increased, so did its collective drinking. The lifestyle was not without its casualties.
"I know it affected Epic Records' decision to NOT sign us," Melin recalls about a showcase in Lawrence that the label jetted out to observe. "We were so drunk that Rich fell onstage and twisted his kneecap. He had to sit in a chair for the rest of the night."
But as luck would have it, one label was willing to offer the quartet a deal. Scotti Bros. - best known for Survivor and Weird Al Yankovic - proved the unlikely winner of the TSL sweepstakes.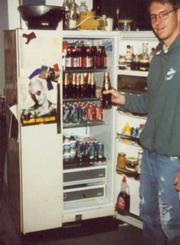 "It was run by the mob, and we always thought, 'That's going to be great for us!' But clearly it wasn't," Melin says.
"It was surreal from beginning to end. From the day we flew there and started working on the EP with Weird Al down the hall recording 'Alapalooza' in studio two and us recording in studio one, to the fact they had just signed Fabio and put out 'Fabio After Dark' - which was a compilation of love songs with him talking in between."
A self-titled EP got released on Scotti Bros., as did the crew's pinnacle achievement, "How I Spent My Summer Vacation," co-produced by legendary Big Star drummer Jody Stephens.
Tours with names such as Everclear followed. And a cover of "Listen to Her Heart" appeared on "You Got Lucky - A Tribute to Tom Petty" that culminated in the gang performing the song live on ABC's "In Concert" in front of a viewing audience of 3 million.
But reality soon set it. The album went nowhere (only selling roughly 3,000 copies) and the relationship with Scotti Bros. deteriorated.
"It got to the point where I felt it wasn't going anywhere; it wasn't really progressing," says Mozier, who quit the band in 1996. "Basically, I was sort of tired of touring and living in a van with three other dudes a month at a time."
Minneapolis veteran Crego formerly of God's Favorite Band stepped in, pumping some new life into the unit. A few of the retooled band's tracks made their way onto various compilation CDs. Eventually, Scotti Bros. bid the group adieu, and the members took this as the final hint to part ways.
Melin says, "In Truck Stop we could never get beyond our own love of the music and our own egos to ever accept that we were anything less than great."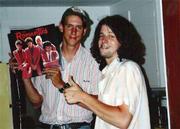 How times have changed
With the exception of bachelor Melin (who, incidentally, writes movie reviews for lawrence.com), all the bandmates are now married with children.
Mozier continues to perform with Arthur Dodge and the Horsefeathers. Huhmann is a veteran of KC indie faves Lushbox and Onward Crispin Glover. Melin is now in Dead Girls Ruin Everything with another ex-player from Fakebook. Yarges and Crego are both solo performers in Minneapolis.
"We all still drink, but not like we used to," Melin confirms.
The reunion gig offers the members a chance to relive some of the glory days, but it also spells out for them how different the area scene has become.
"People aren't that interested about making an effort to go see live bands," Mozier concludes. "When Truck Stop started playing there used to be huge outdoor block parties. But ever since the noise ordinance was enacted it's put the kibosh on that."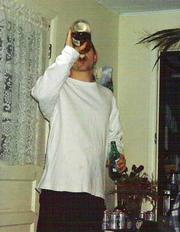 But the musicians say changes in local media also had a stifling effect.
"The Lazer was a big deal," Melin says of the Lawrence FM station that went corporate in 1999. "Do you remember when you used to turn on the radio and hear Paw, Action Man, Season to Risk or Truck Stop Love? They played local music in regular rotation. And they put us on those big shows - those Worlds of Fun shows, their radio shows. There was a lot of support for local music, especially around Lawrence."
That shift in radio has ultimately led to a more narrow departmentalization of sonic styles.
"We fit in everywhere because we were a loud rock and roll band, post-Nirvana," he says. "You could have Truck Stop Love and Stick on the same bill and it would be OK. These days, no way. Emo stays with emo. Punk stays with punk. Country rock stays with country rock. ... Music just split into all these little sub-genres and cliques. It wasn't like that back then."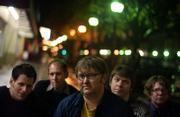 Regardless, the reunion will at least offer those unfamiliar with Truck Stop Love the opportunity to see why the Manhattan project still rocks Kansas a decade later. And who knows, maybe someday the group will warrant a tribute album of its own.
Melin quips, "If there were a Truck Stop Love tribute, a good name would probably be 'Drunkass.'"