Tuesday, November 16, 2004
OK, OK -- THE EMPEROR DOES HAVE CLOTHES Following KU's 27-23 loss to No. 6 Texas Saturday, coach Mark Mangino blew a gasket on national TV over a pass-interference call late in the game. He implied that Texas' chances at securing a Bowl Championship Series bid -- and the subsequent millions of dollars that it would bring to the Big 12 Conference -- were reasons for the questionable call and the UT victory. He later apologized for the remarks. Mangino could fined in the neighborhood of $10,000 for his speech.
MEANWHILE The No. 1-ranked Jayhawks basketball team struggled to a nine-point exhibition victory (79-70) over the Division Two Washburn Ichabods on Sunday at Allen Fieldhouse.
ROCK CHALK, JAYHAWK, GOOOOOOOOOOOOAL! The KU women's soccer team beat Creighton in the first round of the NCAA tournament, but lost in overtime Sunday to Nebraska.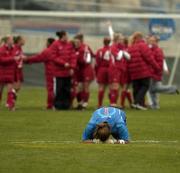 THE UNHEALTHY PAYING TO KEEP EVERYBODY ELSE HEALTHY: Gov. Kathleen Sebelius unveiled a $50 million initiative to extend health care benefits to 70,000 uninsured Kansans. The plan would be paid for by a 50-cent-a-pack on cigarettes. Lawrence barflies, of course, would pay nothing, because...
THEY'RE JUST TRYING TO KEEP US FROM HAVING TO PAY THE HEALTH CARE TAX: Lawrence city commissioners said last week they are reluctant to consider a compromise to the city's smoking ban, even though a number of bar and restaurant owners say their businesses are suffering.
THIS SHOULD CERTAINLY TEACH OUR STUDENTS NOT TO POUT AND TAKE THEIR BALL HOME: Lawrence School Board member Leonard Ortiz walked out of a board meeting early last week, complaining that other members weren't being considerate of his schedule in planning meeting times. "I just felt invalued," he later explained.
NOW HE'LL HAVE MORE TIME TO PRACTICE HIS GOSPEL SINGING: Atty. Gen. John Ashcroft, who came under deep criticism from civil libertarians because of his tactics in the war on terror, resigned from office. The Bush Administration has nominated Alberto Gonzales -- the administration attorney who wrote memos saying that, when it comes to terror suspects, use of torture may be acceptable in some cases and that the Geneva Conventions don't apply -- as Ashcroft's replacement.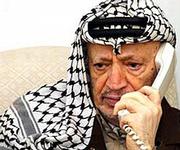 END OF AN ERA: Yasser Arafat, longtime Palestinian leader, died last week without realizing his goal of an independent Palestinian state. His death was expected to set off a fight to become the new leader, but also might lead to renewed peace talks with Israel.