Wednesday, November 17, 2004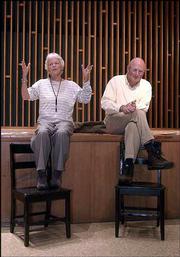 Investing time, energy and money in the arts benefits an entire community, a Minneapolis couple said Tuesday during an appearance at Kansas University.
"You're giving money, I think, because you think you are making a better community," said John Cowles, who with his wife, Sage Cowles, were in Lawrence as inaugural Patrons in Residence at KU's School of Fine Arts.
"Most giving is for the good of a community, no matter what it is," John Cowles said.
The Cowleses, who have made a name for themselves over the years for supporting various arts in Minnesota's Twin Cities, talked about their patronage with a crowd of at least 100 people who gathered in Swarthout Recital Hall.
John Cowles, formerly a reporter and CEO at the Minnesota Star and Tribune, once owned by his family, said he generally gave to causes such as advancement of civil liberties and fine arts, which don't necessarily attract a lot of contributions.
"The arts intrigued me particularly because I think many artists are futurists," he said. "They are showing us how life might be in the future."
Sage Cowles, a former dancer, spoke of the importance of the "education of the senses" and developing the body in concert with the mind.
"The body can contribute to what we know and understand," she said.
The Cowleses spent Monday and Tuesday meeting with the Fine Arts Advisory Board, Friends of the Lied board and the School of Fine Arts Administrative Council to talk about fund raising. Their visit was co-sponsored by Journal-World publisher Dolph Simons Jr. and his wife, Pamela, long-time friends of the Minnesota couple.
The Cowleses' message left impressions on the audience, most of whom were KU students.
Caylyn Spicer, a sophomore from Clay Center, said she was struck by Sage Cowles' statements about the thinking process involving the entire body and not just the head.
Nick Weiser, a freshman from Dighton, also was impressed. "I thought their views were very introspective and went beyond what you normally think of about music, dance and education," he said.