Thursday, November 18, 2004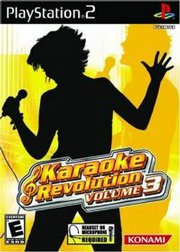 Karaoke gaming is a relatively lively niche, yet a niche. Current offerings like the paltry Get On Da Mic have yet to eclipse the stranglehold games like Karaoke Revolution have on the unique genre. This Vol. 3 should further that hold.
With around 40 songs, Vol. 3 seems like the previous efforts where you simply try to sing the song on pitch while the game measures your accuracy. As you do better, on screen graphics go wild to ensure your good job. So is the game just more songs? Hardly.
The new Sing-off mode has you and a friend competing side by side, belting out the tunes in a heated competition to see who can replicate the original with better accuracy. If you do a better job for an extended time during the song, a status bar will move your way, eventually declaring you the victor.
The Duet mode has you and a friend vying for a high score together, sometimes dividing the singing responsibilities between the two singers. If one of the vocalists is good at singing harmony, the scoring table is also ready for him or her. All of this is seamless and the lyric prompts work so well. Unlike other Karaoke knock-offs the musicians that re-create the popular songs do an accurate job re-recording the hits, so that you don't have to learn new small nuances in the songs that have been burned into your brain.
With over 35 new songs like "Love Shack" and "New York, New York" to more recent pop hits like Usher's "Burn" and Hoobastank's "The Reason," there is a nice amount of variety to sing. I'd still like to see more songs, better representing a real Karaoke bar, especially since the DVD format can handle much more. Still, this is the definitive console Karaoke experience if it's your bag.
Graphics: B-
Sound: A
First Play: B+
Last Play: B+
Gameplay: B+
Overall: 88% B+