Friday, November 19, 2004
For once, a new single on the radio has caught my attention. Oddly enough, it's a cover of an overplayed '70s classic.
The song is John Lennon's hopeful 1971 ode, "Imagine," and it's been given fresh life by L.A. rock act A Perfect Circle on the band's just-released album, "eMOTIVe."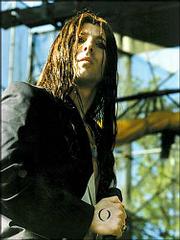 This is the first cover I can think of where the interpretation not only changes the feel of the music but alters the lyrical INTENT of the song as well.
A Perfect Circle is the semi-recently formed supergroup that features members of Tool, Smashing Pumpkins and The Vandals. Unlike most rock bands who cover a bygone hit, the group doesn't just crank up the guitars and hasten the tempo (e.g. The Ataris' version of Don Henley's "Boys of Summer").
In this rendition, "Imagine" begins with pulsing, discordant piano. Singer Maynard James Keenan sticks to the original melody when delivering the opening line, "Imagine there's no heaven." But the droning, downer riff removes any sunniness from the sentiment. When layered over the chords, the arrangement sounds like a dirge.
Suddenly, instead of Lennon's utopian hippie ideology, the composition turns into a right-wing cautionary tale.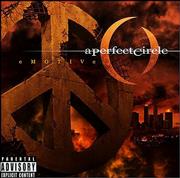 The lyrics proceed to speculate how wonderful life would be without religion, possessions or greed. But Keenan spouts the lines as if envisioning a planet without food, oxygen or cable television.
"You may say I'm a dreamer," he intones. "But I'm not the only one / I hope someday you'll join us / And the world will be as one."
He might as well add, "And that's my final offer, agent Bond." (Followed by maniacal laughter.)
The tattooed act is hardly the first to cover "Imagine." Within a year of Lennon's initial release, Joan Baez and Andy Williams included it on their albums. Since then it's been performed by an army of performers, including Diana Ross, Richie Havens, Blues Traveler and Liza Minnelli.
And yet I can't remember any of those versions. It's doubtful that those artists did much more than alter the instrumentation of their interpretations. Maybe add a string section or a choir. Slow it down or speed it up. Whereas A Perfect Circle now officially "owns" that song.
"Imagine" isn't the only cover tune the ensemble delivers. Ten of the 12 cuts on "eMOTIVe" are songs previously popularized by other musicians.
The band tackles such disparate material as Devo's "Freedom of Choice," Joni Mitchell's "Fiddle and the Drum" and Marvin Gaye's "What's Going On." It also executes a subtle, piano-heavy rendition of "When the Levee Breaks" by Led Zeppelin.
Oh wait, blues great Joe McCoy wrote that song in the 1930s. Zeppelin merely covered it.
Yet it's Zeppelin's version everyone remembers.