Friday, November 19, 2004
Before the advent of tourism as industry, traveling was more than ready-made resorts, staged photos and crutch Lonely Planet guides. "The Motorcycle Diaries" explores the age-old soul of travel -- travel as means to find yourself. (Ironic, then, that the film proposes the idea that traveling and experiencing the world firsthand enriches the soul, and to get that that message, you never have to leave the theater.)
Director Walter Salles ("Central Station") adapted the film from two books: the autobiographical "The Motorcycle Diaries" by Ernesto "Che" Guevara and "With Che Through Latin America" by Alberto Granado, who was Che's travel companion.
It is set in 1952, years before Guevara would come into his own as a Cuban revolutionary and political leader (and, finally, T-shirt icon). Guevara (played by Gael Garcia Bernal) comes from a privileged background, and as the film opens, he and Alberto (Rodrigo de la Serna) wave goodbye to friends and family in Buenos Aires. They have just a few months to see as much of Latin America as they can by way of a rickety motorcycle. Ultimately, the honorable goal is to work in a leper colony in Peru -- but, of course, not without meeting beautiful girls along the way and reaping their generous hospitality.
Salles paints a portrait of Che (or "Fuser" as his pal calls him) as a sensitive young man capable of large acts of generosity and spirit. It's clear early on how the movie's controversial main character will be painted. But the Brazilian director wisely avoids big generalizations, preferring to let small gestures speak higher of Che. For example, it becomes a badge of honor for young Fuser to refuse to spend his girlfriend's money even when Alberto begs him incessantly for it.
Che's awakening is a gradual one. He begins to discover for himself the weight of the past and how it will reflect on the future, beginning with a moment's reflection on some ancient Incan ruins. Salles' approach is unerringly human, arguing that a broader perspective can shape a person's destiny. And if "The Motorcycle Diaries" is a road movie and a buddy flick combined, then it is the most unassuming mixture of the two in recent memory. Both Bernal and de la Serna exude a confident charisma and considerable charm.
Movie
Motorcycle Diaries
***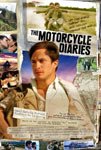 A South American motorcycle tour north from his home Argentina turns into a revolutionary trip for a young 'Che' Guevara (Gael Garcia Bernal). Walter Salles' film about Fidel Castro's eventual right hand man in the Cuban Revolution finds truth and beauty in the average people as well as the revolutionaries. It's the most relaxed buddy/road trip movie ever, and it speaks highly of the value of travel.
By drawing parallels to the life that Che, the eventual medical student, will soon lead, Salles gives the film some historical perspective. But the movie would succeed on its own as a travelogue, even if not for the legendary status of its lead character.
Also, the South American countryside is captured in all of its natural splendor and poverty-stricken squalor by the cinematography of Ãric Gauthier, which makes the relaxing tale that much easier to swallow. In its portrait of a foreign people and their landscape, "The Motorcycle Diaries" shows our differences are far less divisive than some would have you believe. There is more to life than the safety zone people build around themselves. As anyone who has traveled abroad knows, one small trip can make all the difference in one's worldview. And in America, having a broader perspective these days is revolutionary in itself.