Friday, November 19, 2004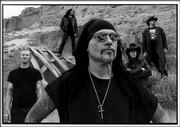 ROCK
Ministry
When Marilyn Manson was 12, Al Jourgensen and Ministry were already scaring the bejeezus out of people. The band practically invented industrial dance music with releases such as "The Land of Rape and Honey" and "Psalm 69." Now drug-free, married and still angry (mostly because of recent election results), Jourgensen and Ministry are back at it with an acerbic new album ("Houses of the Mole") and a live show that's rumored to be heavier than ever. Ministry is joined by My Life With the Thrill Kill Cult at 10:30 p.m. today at The Granada. For more information, visit www.lawrence.com.
FOLK
Dierdre McCalla
An engaging performer with a voice that delicately conveys both strength and vulnerability, Deidre McCalla's eclectic blend of folk, rock, country and pop has touched the hearts and minds of audiences from Maui to Maine, college coffeehouses to Carnegie Hall. A black lesbian feminist, McCalla's words and music celebrate the power and diversity of the human spirit. McCalla performs at the Folk on Mass. Concert at 7:30 p.m. today at 1646 Mass. For more information, visit www.lawrence.com.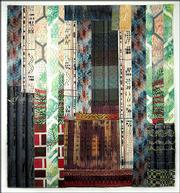 ART
'8' designers
An exhibition that opens Sunday at Kansas University's Art and Design Gallery offers a peek into the creative lives of design department faculty members. The show, simply titled "8," features eight artists working in graphic design, textile design and mixed media. Among them are professor David Brackett, whose "I'll Be Home" is pictured above. The 61-by-56-inch panel was made using various fibers, painted and supplemental warps and screen printing. The show remains on view through Dec. 9. For more information, visit www.lawrence.com.