Sunday, November 21, 2004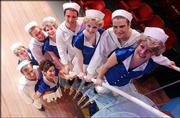 On the set of Cole Porter's "Anything Goes" at the Lawrence Community Theatre, the audience members roar with laughter at every punch line. They cheer and applaud after every song and dance number.
It's almost as if they're seeing the show for the first time, rather than the 50th. But this performance is only a rehearsal, and the audience consists only of the director, choreographer and a few other crew members.
Franci Talamentez, who plays Reno Sweeney in the show, says the crew's continued enjoyment is a testament both to her fellow cast members and Porter's writing.
"It's such a great show," she says. "We still laugh at every joke."
So far, ticket sales have matched the cast and crew's excitement. One day after they went on sale to the public, about 75 percent of the tickets had been sold. Director Jeff Montague predicts the show will sell out.
For now, the musical is scheduled to start its run Friday and end Dec. 12, but choreographer Barbara Wasson says more shows may have to be added to accommodate the demand for tickets.
"The show seems to have struck a chord with a lot of people," she says.
"Anything Goes," which won a Tony Award in 1988, is set aboard a luxury liner bound for London. Stowaway Billy Crocker tries to woo socialite Hope Harcourt, who is about to wed Lord Evelyn Oakleigh, a wealthy Brit.
Meanwhile, nightclub singer Reno Sweeney, gangster Moonface Martin and other memorable characters complicate the issue. Songs include some of Cole Porter's most memorable hits: "It's De-Lovely," "You're the Top," "I Get a Kick Out of You," "Blow, Gabriel, Blow" and "Anything Goes."
The theater's production of the show follows the summer release of "De-Lovely," a film chronicling Porter's life. Wasson calls the scheduling good timing but says it is a coincidence.
Montague, who commutes from Topeka, says the prospect of directing a popular show like "Anything Goes" made him both excited and nervous.
"I gulped at the amount of dancing," he says, "I wondered, 'Can we find the talent?'"
The show features tap dancing -- a first for the Lawrence Community Theatre -- so the theater offered a crash course in tap before the auditions. Montague's worries about the dancing and talent level were assuaged shortly after auditions.
"Usually some of the voices make you cringe," he says. "That was not the case here."
In fact, Montague says this is one of the better casts he has directed.
"They're amazing," he says. "After about 160 productions, I've been as happy with only one or two."
The cast seems to be just as pleased with its director.
"I love him," Talamentez says. "He's a lot of fun."
Some members of the cast, who are all unpaid, drive from as far away as Topeka, Baldwin and Olathe for rehearsals. Talamentez says some of the Topeka actors probably would not be in the show if Montague were not directing. Michael Hagen, who plays Billy Crocker, was one of Montague's students in high school.
But don't accuse this director of nepotism. Talamentez, Catherine Skorupski (who plays Hope Harcourt) and Kristen Van Engelen (who plays Erma) are all acting in their first shows with the theater.
In addition to working with new actors, Montague says the 159-seat theater can create special challenges as well. He applauded set designer Jack Riegle for having to work in such a small space.
"The sets are marvelous," Montague says. "Creating a cruise liner on a dinky, postage-stamp-sized stage is no small marvel."
Despite the spatial challenges, Montague says he loves working at the Lawrence theater.
"Everyone makes me feel so welcome," he says. "As a guest director, I can't say it's always like that.
"Lawrence is a wonderful place to work."