Wednesday, November 24, 2004
It's time to "make hay" at Lawrence's longest-running charitable kitchen.
The 20-year-old Lawrence Interdenominational Nutrition Kitchen (LINK) -- housed in the basement of First Christian Church, 221 W. 10th St. -- is seeking donations and volunteers for Thanksgiving and beyond.
LINK president Diane Yeamans said that during the past five years the kitchen had experienced a 35 percent increase in demand for meals while the average donation size had decreased by 30 percent.
"This is the time of year when people normally give," Yeamans said. "There's a time when you're on one side of the serving line and a time when you're on the other side. As you progress through life, you become thankful for both."
Last Thanksgiving, LINK served 32 turkeys and endless side dishes to more than 450 people. Half of those people came to the kitchen, while those who couldn't make it had meals delivered to their houses.
According to LINK secretary Cindi Hickey, the kitchen has three specific needs for volunteers this Thanksgiving:
¢ Drivers to help deliver Thanksgiving dinners to homebound guests
¢ Donations to help cover the costs of the turkeys
Past Event
Thursday, November 25, 2004, 1 p.m. to 2:30 p.m.
(One-off place), Lawrence
All ages / Free
¢ Volunteers to help prepare and serve
"We're in kind of in a tight situation right now, but I think a lot of charities are," Hickey said. "The community is extremely supportive of us, and anytime we make it known that we have a need we've always had people that have supported us."
Meals at the kitchen are funded and prepared by more than 40 volunteer groups (mostly local churches) that oversee one meal a month or more.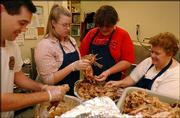 Marg Hadl of Trinity Lutheran Church has been volunteering at the kitchen for nearly 20 years. She said organizing and serving the meals gave her a chance to say thanks for the things she had.
"We want everybody to feel comfortable and at home," said Hadl, as she offered diners a selection of white or wheat bread to accompany their other options -- Mexican casserole, ham, fried chicken, cashew chicken and a selection of fruits and desserts -- at a recent meal.
Thanksgiving dinner is the most work-intensive of the 200-plus meals the kitchen serves each year. All meals are free and open to the public.
"You'd be surprised how many college students we have come as guests," Yeamans said. "And they're welcome."