Wednesday, November 24, 2004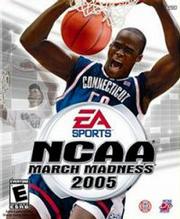 EA usually trails the Sega/ESPN offerings in critics' ratings. This never really means too much to EA since its games always sell so much more. With the $20 price strategy that ESPN pulled this year, it has forced EA to up the ante in its games, especially since EA still charges $40 for them. For the first time, EA has almost matched the ESPN college basketball offering with March Madness 2005.
One of the coolest additions in the Dynasty mode, which can go out 30 seasons, is the meddling of the NCAA in your recruiting tactics. You can actually give potential recruits illegal gifts in the hopes that you won't get caught. Also, you can discipline your players by suspensions per game. If your team gets in a world of trouble, the NCAA may take note and penalize you. If it gets insanely bad, they can even take away televised games or even scholarships. It's this world of opportunity and risk that really make the enhanced Dynasty mode an awesome experience.
On the floor, Madness plays very smooth. Better guards will be able to shake poor defenders. Star forwards like Wayne Simien will be able to hit a clutch tre. And the new "Floor General" system is merely a visual addition to play-calling with the D-pad. When you choose a play, it actually shows the play routes on the floor a la Madden so you can see exactly what is going to happen. The plays are also team-specific, although suckier teams will have a harder time executing, as they should. Even Lawrence's beloved Bill Self makes an appearance, featured in the "how-to" in Floor General training.
Madness is sorely missing a lead pass button like ESPN's offering. Passing seems a bit archaic in comparison. However, the Freestyle controls feel much better than ESPN's Isomotion. Also, you can use those controls to initiate tip-ins and other offensive and defensive rebounding moves. There are two shooting buttons. One is a regular jumper that will be performed no matter where you shoot. The other is a lay-up/dunk button. This difference alleviates the frustration of not dunking when your player is in obvious dunking range. Gone are the days of the one-foot jumper. That is, of course, unless you actually want it to happen. The more added control the better I say.
Unfortuantely, any team can exploit the "Alley Oop" button excessively. It's almost a guaranteed dunk. This seriously mars the simulation aspect of the whole landscape. It's really tempting to just dupe the game and use it all the time. Also, the real regular season schedules have to be created. That's not smart.
Dick Vitale and Brad Nessler get the nod to give the audio analysis. And as much as I love Dick and his passion for the game, he repeats himself way too much. Even I get annoyed by him and I'm an honest fan. The chants and aura around the court is done extremely well, with team-specific fight songs and what not.
The character models don't look as good as ESPN's game, but is not far off. The stadium models are better, however. Where ESPN creates and models the stadium down to the correct beams and entrances, Madness creates and models the stadium down to the correct hanging banners.
Madness also boasts the top 25 most difficult places to play, classic scenarios and a wealth of unlockables if you ever get crazy enough to think that Dynasty mode gets too short.
I am having a lot more fun with this year's March Madness. It's just that simple. The series has gone from putrid to pleasant in a few years. I still may prefer ESPN's offering, but only slightly.
Graphics: B+
Sound: B+
First Play: B
Last Play: B-
Gameplay: B
Overall: 84% B