Thursday, November 25, 2004
Lawrence's Bizarre Bazaar was born of humble roots.
The show and sale of eclectic, funky and sometimes kooky art traces its beginnings to an effort by two neighbors, Nan Renbarger and Dixie Lubin -- both artists -- to have their work seen by more people.
"We were doing our art and got disgruntled. We decided we wanted to have a venue where we didn't have to get juried into it or pay fees to get into an art show or craft fair, anywhere you could get exposure to sell your work," Renbarger said.
"We were poor artists, and we didn't really have the money, or we didn't want to spend the money to buy into a show and then maybe not sell anything."
So the women put on a small-scale, egalitarian show of their own, an intimate gathering of fellow Lawrence artists and friends, and in 1989, the Bizarre Bazaar was born.
For its first three years, Renbarger, a fiber artist, was able to be host to the intimate event in the front room of her North Lawrence home.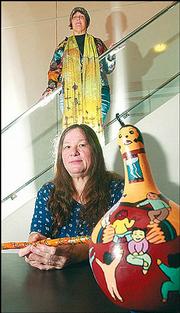 But no more.
Under the guidance of a handful of "founding mothers" -- Lawrence artists like Lubin and Renbarger who were there at the beginning -- the event has snowballed well beyond its early dimensions.
The Bizarre Bazaar is now an eagerly anticipated community tradition that annually draws hundreds of people to the Lawrence Arts Center, 940 N.H., to choose from among a vast array of affordable work by more than 100 area artists, as well as hear live music by local musicians on two stages.
The event, now in its 15th year, will be from 9 a.m. to 5 p.m. Saturday at the arts center, featuring everything from handblown glass beads, mosaics and fiber art to the more unusual -- "heads" fashioned from roots or grapefruit skins, found art and fabric, soft-sculpture women.
The event is free and open to the public.
The scope of the Bizarre Bazaar, in recent years, has surprised Renbarger.
"It's a big deal -- it's taken on a personality all its own. Every year, I marvel at how many people are involved. It does my heart good, because it started as this little, tiny seed," she said.
Renbarger lived in Lawrence from 1968 until two years ago, when she and her partner, Garold Sneegas, moved to Overbrook.
Renbarger, a fiber artist, doesn't organize the event any more, but she still shows and sells her art at the bazaar.
True to its original intent, any artist can sign up to participate in the show. All they have to do is pay a $15 entry fee, serve on one of the organizing committees and bring some homemade baked goods to sell at the event.
Past Event
Saturday, November 27, 2004, 10 a.m. to 5 p.m.
Lawrence Arts Center, 940 New Hampshire St., Lawrence
All ages / Free
Renbarger described the Bizarre Bazaar as inclusive in nature.
"If there's somebody at the last minute who wants to be in it, there's always someone who's willing to share their (display) table," she said.
The event's founding mothers will be honored at this year's show. Apart from Lubin and Renbarger, they are: Jennifer Veerkamp; Nancy Hubbel; Laura Ramberg; Peter Avila; and Hubbel's mother, Betty Milliken, who is in her 90s.
All of the women are still active in the Bizarre Bazaar, either helping to put it together or showing their artwork at the event.
Lawrence artist Kris Barlow, though not a founding mother, serves as chair of the show's organizing committee.
She described what sets the Bizarre Bazaar apart.
"It's generally reasonably priced art. It's unusual, instead of the things you see at all of the other craft shows and art shows in town. Some of them (the artists) are people who just like to do art, and this is a venue for them to get out and do a little bit," she said.
"It's a really well-attended show. I've gotten a lot of feedback from artists and people who come who say it's the best art show in town. We try also to keep the flavor of that smaller community idea, that it was started by these women and they all worked to make it happen."