Sunday, November 28, 2004
Lawrence Community Theatre's production of Cole Porter's "Anything Goes" set sail Friday evening with performances that were equal parts delightful, delicious and de-lovely.
The carefree musical comedy follows Billy Crocker, a young Wall Street broker, who stows away on an ocean liner bound for London in his quest to woo debutante Hope Harcourt away from her fiance, wealthy aristocrat Lord Evelyn Oakleigh.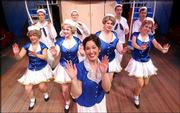 Crocker gets a little help from Reno Sweeney, a charismatic celebrity evangelist turned nightclub entertainer who sets aside her own feelings for Billy, as well as gangster Moonface Martin, otherwise known as Public Enemy No. 13 (much to his chagrin).
Musically speaking, the show started off a bit rocky, with Franci Talamantez as Reno serenading Billy (Michael Hagen) with a rather stilted version of "I Get a Kick Out of You." But with opening-night nerves out of the way, Reno and company navigated energetically through the rest of the Tony Award-winning play, widely considered by theater historians the quintessential 1930s musical.
Talamantez exuded star quality as the often-at-center-stage Reno Sweeney. She established an easy rapport with Billy (in the tightly choreographed "You're the Top") and her shady sidekick Moonface Martin (in the ultra-charming "Friendship.") She delivered a knockout performance in the title number, "Anything Goes," singing boisterously and tap-dancing like an old pro. The show-stopping conclusion to Act I, during which most of the company joined Talamantez in tap shoes, roused several rounds of midsong applause. Also notable was Talamantez's rendition of "Blow, Gabriel, Blow."
Michael Hagen portrayed Billy as part lovesick courter, part desperate master of disguise and part cocky conqueror -- always appearing natural onstage. He shined vocally in his "You're the Top" duet with Talamantez, and carried off his character's comic moments with subtle mastery.
But it was Dean Bevan as Moonface Martin who stole the show. Disguised as a clergy member, Moonface carried a violin case with a tommy gun hidden inside. Bevan delivered Moonface's lines with an Italian accent and hilariously pulled off the comic disparity between his character's desire to be dangerous and his inevitable bad timing and decidedly harmless charm.
Also notable were performances by:
¢ Kristen VanEngelen as Erma, Moonface's coquettish cabinmate who has a talent for charming sailors out of their pants;
¢ Knute Pittenger as Lord Evelyn Oakleigh, the Brit whose ceaseless quest to understand American English results in many comic moments;
¢ Catherine Hollyer Skorupski, who plays Hope Harcourt with just the right amount of doe-eyed confliction;
¢ And Alfred J. Lata as Elisha Whitney. Lata's deadpan delivery of crass pickup lines and silly observations layered even more laughter into the show.
There were few weak links in the supporting cast, and the company filled the small theater with well-pitched song during big production numbers.
Hats off to the musicians -- Francene Beall (piano), Will Cooper (trumpet), Greg Tugman (saxophone/flute) and Valance Penn (percussion) -- who provided 2 1/2 hours of Porter's catchy music; choreographer Barbara Wasson, who beautifully coordinated movement by dozens of dancers on a petite stage; costume designer Annette Cook, who had her hands full with a slew of 1930s getups; lighting designer Ron Chinn, whose creativity made the title number especially dazzling; and set designer Jack Riegle, who, along with a strong, hustling crew, erected a beautiful bi-level ship's deck and spent the evening dressing a challenging number of scenes by heaving set pieces on and off stage with a giant sled.
The show continues today and the next two weekends.