Sunday, November 28, 2004
Preparing for her run as featured artist at this year's Festival of Trees, Jan Gaumnitz realized: Animals can be angels, too.
Gaumnitz has been crafting tree ornaments for seven years, casting and firing clay into the shapes of tiny angel girls, feet dangling down in lacy dresses.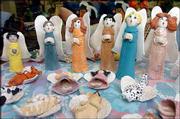 But a few years ago, it occurred to her that girls weren't the only ones haloed and hallowed. Boys and people of all races warranted wings as well. And what's that old saying about where all dogs go? Let's not leave cats out of this either.
So when pondering which ornaments to create for the Festival of Trees, Gaumnitz decided to stretch her wings.
"I've had suggestions from people, that people wanted ornaments for their pets," she said. "It keeps me fresh."
The 18th annual Festival of Trees, a benefit for The Shelter Inc., begins Monday and features more than 50 trees and eight wreaths donated and decorated by local businesses, community organizations and individuals. The trees can be viewed from 10 a.m. to 8:30 p.m. Monday, Wednesday and Thursday at Liberty Hall, 642 Mass. A $2 donation is suggested to browse the holiday trimmings.
Festival of Trees Open to the public through Thursday at Liberty Hall Admission $2; kids free Full event info
Viewing will end at 5 p.m. Tuesday in advance of an 8 p.m. auction, where the trees and wreaths will be sold to the highest bidders. Tickets are $25.
All proceeds, including those from the sale of the 25 handmade ornaments donated by Gaumnitz, will go to The Shelter Inc., a nonprofit organization providing emergency services for youth in the Lawrence community.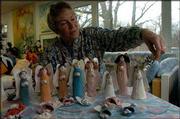 Gaumnitz's ornaments won't be the only angels getting recognition during the festival. The Shelter will present its third annual Unsung Hero Award to a family that has made a special effort to help the organization's children.
Paulette Schwerdt, Kevin Howard and their children -- Mason, Matt and Janee -- decided some time ago to give up exchanging presents with one another at Christmas so they could share with others in the community instead. Since Christmas of 2002, they have provided gifts for all the residents in two Shelter facilities.