Monday, November 29, 2004
Many local music fans know Lawrence is home to great bands and venues for live music. But most fans probably don't recognize Lawrence as a place where great teen and preteen rock bands develop.
Local punk act Living Rdkil is probably the most well-known of local teen bands, but Lawrence has other young musical talent.
Jake Jordan and Sam Nitcher, Lawrence, are two such examples. The two 15-year-old Free State High School sophomores play drums and guitar, respectively, in the punk-metal band Element 115.
Jordan said that while he thought making a career out of music "is realistically a tall order, I would like it to be a part of my life."
Nitcher said his family was supportive, "until they start having to lug us around."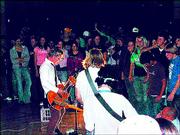 On Nov. 6, Nitcher and Jordan's band, under the name Larusso's Bicycle, played with five other bands in the commons area of Free State High School. The Battle of the Bands drew a crowd of about 300 teens and preteens, who watched and danced from about 8 p.m. to 11 p.m.
Despite its name, the show was not about competition, although the bands auditioned to get on the bill. Biology teacher David Reber sponsored the show, and said it was "mostly an opportunity for these kids to get out and play for somebody."
The following bands played about half an hour each: Something Factory, Ben and I, Shaggy Haired Outcasts, Larusso's Bicycle, One Jack Short and a jam band whose name is four esoteric symbols.
Among the highlights of the show was a revved-up rendition of The Clash's "Train In Vain" by Larusso's Bicycle. The Shaggy Haired Outcasts got many people dancing, and offered CDs and T-shirts for sale.
Four days after George Bush's re-election, bassist/vocalist Toby Jennings of rising punk band One Jack Short dedicated the group's second song -- "about stupid politicians " -- to "all the people who are gonna die in the next invasion."
Charlie Naramore, Free State junior and bassist for Shaggy Haired Outcasts, said "it is kind of glamorous to be in a rock band in high school." Naramore said the best thing about it was the "creative side, then showing and performing your stuff."
Battle of the Bands participants
Something Factory
Ben and I
Shaggy Haired Outcasts
Larusso's Bicycle
One Jack Short
(four esoteric symbols)