Although Brendan O'Bryhim was rather young when "Fat Albert and the Cosby Kids" first gained popularity during the 1970s, the music-themed show still made an impression.
"I definitely remember the episode where they went around doing chores to make money to buy instruments," O'Bryhim recalls. "They only came up with a dollar and change. They went to the music store and were hundreds of dollars short. So they ended up playing the bedspring and pots and pans after that."
Had O'Bryhim's band Phat Albert continued to perform, the members could have been forced into the same kind of economic hardships.
The horn-driven, seven-piece act from Lawrence sustained an unexpected shock recently when it received a certified letter from the law firm that handles Bill Cosby. The counsel insisted Phat Albert cease and desist using that name as it "violates federal trademark laws" in regard to the comedian's Fat Albert creation.
Hey, hey, hey -- a potential lawsuit.
"Cosby has been pretty grumpy lately," says O'Bryhim, saxophonist with the artists formerly known as Phat Albert. "I think I'd be afraid to confront him about anything."
How the lawyers even heard of the Midwestern unit remains a mystery, yet O'Bryhim speculates it coincided with the fact the band had been playing dozens of college shows out of state. The increased exposure of the group coupled with the news that a live-action film version of "Fat Albert" will be released around Christmas may have increased the Cosby camp's scrutiny.
But how does an unsigned band in the middle of Kansas actually infringe on Cosby's trademark?
"He has rights to that throughout the world, so it doesn't matter where it's being used," says John P. Schmitt, of the New York firm of Patterson, Belknap, Webb & Tyler that represents the entertainer.
"If you don't enforce your rights to the trademark you risk (A) the dilution of the mark and (B) losing legal rights to them. So we always enforce our rights."
Past Event
Saturday, October 2, 2004, 7 p.m.
Granada, 1020 Mass., Lawrence
All ages / $5
Schmitt claims that it didn't matter if the band spelled its name with a "ph" instead of an "f" because "there's still a potential for confusion." He also asserts situations like this rarely make it to the courtroom.
"I can't remember a case where we had any further issue after a letter went out," he says.
Let's get Lost
Apparently the letter worked, because after seven years together as Phat Albert, the band has changed its name -- among other things. The newly reinvented Lost 80 will present its Lawrence debut at 7 p.m. Saturday at The Granada Theatre, 1020 Mass.
O'Bryhim insists that the cease and desist threat was not the deciding factor in the act's relaunch.
Past Event
Tuesday, October 5, 2004, 8 p.m.
Allen Fieldhouse, 1651 Naismith Drive, Lawrence
All ages / $15 - $25
"We had already talked about getting rid of the kitschy name that a bunch of 18-year-olds had come up with," he says. "It made us move a little faster, maybe."
The ensemble selected the moniker Lost 80 based on an 80-acre park in Leavenworth that was the site of many youthful indiscretions for several of the members who grew up in that area.
Phat Albert first formed in 1996 when the core players in the group were attending Baker University.
"We were all 18- and 19-year-old kids in kind of a party setting," he recalls. "It was some ska, funk, rap-rock. After five or six years of that, it had really gotten old. And nobody wanted to hear a white guy rapping anymore."
Eventually, the members moved to Lawrence. After a good run charming the skank and bake crowd -- and a few lineup changes -- the band decided to shift directions.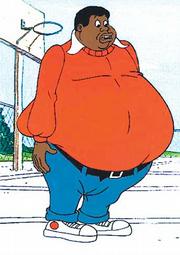 "Last spring we were playing a lot of shows through NACA (National Association of Campus Activities)," O'Bryhim says. "We'd gotten a showcase for a hundred or so college representatives in Tulsa. We booked a bunch of shows and we played that same old material a bunch of times. We kind of realized if we could succeed with that crap, we knew we could write a lot better music and do even better."
The 26-year-old musician describes the new material as "definitely not ska," and that it features heavier rock elements. It also embraces more input during the writing process from all the members, which include vocalist PJ Barnett, bassist Anthony Barnett, guitarist Mike Yunghans, drummer Steve Spacek, trombonist Dave Studnicka and trumpeter Ben Rhoden.
"No matter what kind of music we play, we seem to get ska comparisons and ska fans at our shows," O'Bryhim says of the upbeat, island-based style. "When we played in Hayes on Saturday, there was somebody trying to skank to one of our songs that was one of the least ska songs you can imagine. They just won't let go."
The Cosby show
In an odd bit of synchronicity, Cosby will perform in Lawrence on Tuesday at Allen Fieldhouse, just three days after Lost 80's gig.
While trombone player Studnicka picks "Ghost Dad" as his favorite Cosby project and guitarist Yunghans cites a "small yet pivotal role in 'Meteor Man"' and those JELL-O Pudding commercials as the standouts, O'Bryhim selects the infamous 1987 film "Leonard Part 6."
"Any movie that combines militant vegetarians and killer sea bass is brilliant," he says.
The musicians in Lost 80 have no plans to see the veteran comedian at his first live Lawrence concert in decades. However, in all seriousness, it's not because of a lack of respect for the man.
"I grew up with a heavy dose of Cosby, and he helped shape my whole idea of comedy," O'Bryhim confesses. "Cosby is a legend to me and I'd probably still love the guy if he had sued us. I don't know if I could say as much for his lawyers, though."
More like this story on Lawrence.com