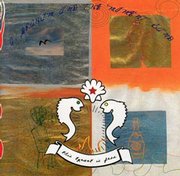 A. Graham and the Moment Band is a KC-based indie pop group composed of a bunch of old friends, some of whom used to live in Lawrence and play in bands you may or may not have heard of (Bully Pulpit, Dot.Dot.Commies). The band gained some local notoriety when they took runner-up at last April at the KJHK-sponsored Farmer's Ball.
"This Tyrant is Free" was originally released independently in 2003 but is being re-released by the band's new label - Sonic Unyon, based in Canada (and also home to Jens Lekman, Manishevitz and some Frank Black recordings). The album is essentially the solo project of Andy Graham, with help from an extended family of friends (and even a choir on the leadoff track "Triumphant").
Album Mp3s

This Tyrant Is Free
Graham's most visible influences are Pavement and The Cars, though his crack-prone voice bears a striking resemblance to Isaac Brock of Modest Mouse. Graham's lyrical and melodic sensibilities can best be described as "quirky," which can be either charming or obnoxious, depending on your tastes.
Though the band claims influences as diverse as The Rolling Stones, "punk" and "psychedelic" rock, its sound is more in tune with the twee pop of K Records (Beat Happening, Microphones) or the early sloppy recordings of Pavement. Their musicianship is o.k. at best - mostly power chords and 4/4 beats decked out with some keys, percussion and an occasional trumpet or pedal steel.
Upcoming show
A. Graham and the Moment Band
What will really make-or-break "This Tyrant is Free" is the listener's tolerance for Graham's loose, conversational lyrics. Songs like "Monkey Chickens" and "Lazar y Caroline" come off like inside jokes. "Total Nutcase" begins with the curious stanza: "I'm a total nutcase / And I love to swim / Just hand me a card / And a fistful of peanuts / I'll give you what you want / Don't punch me in the face / That's been done before."
Graham seems to have good taste and good musical sensibilities, but he's going to have to up the composing/arranging ante if he's going to reach a larger audience. With a little more diversity in song structures, a few less inside jokes and a bit more time invested in musicianship, Graham's band could live up to the "glorious, triumphant" promise of this album's leadoff track.