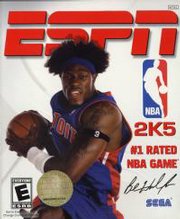 ESPN NBA 2K5 rings in at only $19.99, continuing the low price trend that treated them so well with NFL 2K5. The message that is getting across is that you have two options for great sports games, not just to default to EA. For the NBA titles, the better game isn't as clear as the small gap between the NFL games and the much larger gap in the NHL arena. ESPN NBA 2K5 has its things it does better:and some not so much.
Iso-motion, the freestyle right analog stick control, feels better than last year but isn't as smooth as EA's offering. The overall control of the game feels slightly stiffer as well. Also, the dunks don't seem to have much variety for an NBA game. However, what is truly great about ESPN's gameplay is that the passing game is phenomenal. You actually can lead and hit your teammates in stride. This is a no-brainer element that EA's offering sorely missed. Not only that but the play calling you can assign on the fly and call in from the sideline is unmatched in depth. The plays actually get performed by your teammates and adds great strategy to an otherwise pass-and-shoot repetition. On the court, ESPN NBA has the makings for a better simulation, despite its stiffer feel.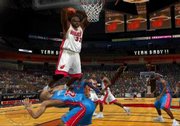 The new Association mode is essentially the same thing as a Dynasty or Owner mode. Like ESPN NFL, you can set training regimens for your team every week and is more encouraged in this title. You can meet with your players and answer questions to their most pressing issues to develop team chemistry. The training mode definitely shows its fruits in your season but the chemistry building doesn't seem to follow from the types of answers you give, but is an interesting start. The trading system is very streamlined and gives you enough graphs and information to make a good decision.
An out-of-left-field mode called Full Authority springs up this year. Essentially it's a turn-based strategy mode that allows you to choose every offensive and defensive move your players make. It gives you unprecedented control over your team and is a much welcomed addition; even though the pace may seem painstakingly slow to most sports fans.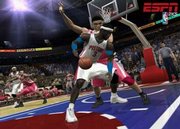 Online, ESPN is flawless. You can seamlessly get into games and play without hitches from lag or framerate drops. This results in a much finer and fun time hooking up with players all over the globe.
The graphics don't look nearly as good as other ESPN offerings simply because of how jagged many of the object look on screen on all versions. Also, the animations don't seem up to par, either, sporting some chunky transitions. That being said, the realistic color palette still looks better than EA's game and the player faces are unrivaled in terms of accuracy. Man do I love the presentation narration of Stuart Scott, but Bill Walton's in-game color commentary gets extremely repetitive, even though the content is top-notch.
ESPN NBA 2K5 has all the makings of a better game of basketball, but slightly held back by the stiffness on the court. Full Authority is a brave new mode, but nothing in the game really answers the ultra-fun slam-dunk mode in EA's offering. Still, 2K5 is a solid effort overall with detailed extras right up the hardcore fan's alley:especially at a mere $19.99.
Graphics: B
Sound: B
First Play: B-
Last Play: B+
Gameplay: B
Overall: 85% B
More like this story on Lawrence.com