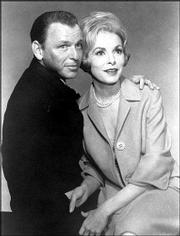 Actress Janet Leigh, whose gruesome and bloody murder in Alfred Hitchcock's "Psycho" scared millions of female moviegoers out of the shower, died Sunday at her Beverly Hills home. She was 77.
Leigh had been battling vasculitis, an inflammation of the blood vessels, for a year.
"She died peacefully, surrounded by her family," including her husband, Robert Brandt, and actress-daughters Jamie Lee and Kelly Curtis, said Heidi Schaeffer, Jamie Lee Curtis' spokeswoman.
Born Jeanette Helen Morrison to parents who often moved from town to town, Leigh was "discovered" when MGM's Norma Shearer saw her picture at the front desk of a California ski resort, where her father worked the front desk and her mom was a maid.
The pretty and curvaceous actress went on to capture ingenue roles in a number of films, working with such leading stars as Errol Flynn, Gary Cooper, James Stewart, Orson Welles and Judy Garland.
Her career would included a number of successful movies, including "Little Women," "Angels in the Outfield," "Scaramouche," "Houdini," "The Black Shield of Falworth," and "The Manchurian Candidate."
She co-starred with Jamie Lee Curtis in the 1980 horror flick "The Fog." Her last movie was "A Fate Totally Worse Than Death" in 2000.
Although Leigh played in every type of film, from comedies and musicals to westerns and dramas, the high point of her 63-movie career was undeniably the role of Marion Crane, the doomed embezzler in "Psycho."
Leigh earned just $25,000 for her 45 minutes on the screen in the Hitchcock thriller, but her performance as the slashing victim of Tony Perkins earned her a Golden Globe, an Academy Award nomination and a place in Hollywood history.
When asked if "Psycho" had actually made her shower shy too, Leigh said, "It's actually, honestly true. Not because of the shooting of it. It was the seeing of it. It never dawned on me how truly vulnerable we are."
She told another interviewer, "... if there is no other way to bathe, I make sure all the doors and windows in the house are locked, and I leave the bathroom door and shower curtain open so I have a perfect, clear view."
Leigh, who finished high school at 15, was considered a bright but lonely child who eloped with a boyfriend at 14. The marriage was annulled.
Another marriage ended in divorce and in 1951 Leigh married actor Tony Curtis, father of her daughters.
She and Curtis were celebrated as Hollywood's Perfect Young Couple, but their marriage ended in divorce in 1962. Leigh took her fourth husband, Brandt, that same year.
In the 1970s, Leigh appeared in a number of made for TV movies and in 1984 published an autobiography. Empire magazine named her one of the 100 Sexiest Stars in film history in 1995.
In recent years, Leigh was very choosy about acting projects and except for her daughter's flicks, declined regular offers to trade on her "Psycho" fame with other horror roles, said her agent, John Frazier.
"Every year at this time of the year, she would be approached to do something tied into Halloween," Frazier said. "She never did that. She thought it would have cheapened it."
More like this story on Lawrence.com