New York — The New Yorker Festival is a buffet for the mind.
Like movies? Go listen to a talk by Wes Anderson, director of "Rushmore" and "The Royal Tenenbaums."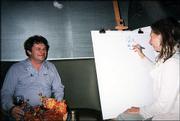 Like literature? Dozens of authors are on hand to talk about their work -- including Jeffrey Eugenides, Jhumpa Lahiri, Jonathan Franzen and Salman Rushdie.
News junkie? There's a seminar featuring Tom Brokaw, Peter Jennings and Dan Rather.
Fashion? Food? Politics? Check, check and check.
And that's all the stuff I didn't get to go to during the magazine's fifth annual festival Oct. 1-3 in -- where else? -- New York.
I've been wanting to attend the festival for several years; this year I realized I didn't have any excuse not to go. And it turned out to be a delight -- a geeky delight, perhaps, but a delight nonetheless.
Here are the events I was able to attend:
¢ Oct. 1: Seymour Hersh talks with David Remnick. Remnick is the magazine's top editor; Hersh is the investigative reporter who uncovered the My Lai Massacre in Vietnam -- and, more recently, helped break the story of the Abu Ghraib prison scandal.
President George W. Bush is apparently not a fan of Hersh. In Bob Woodward's book, "Bush at War," Bush is quoted as saying "Seymour Hersh is a liar."
It's safe to say that Hersh returns the feelings. During his appearance on stage, he dismissed Bush as a "president with a bedtime" and criticized the Iraq war. He warned that Americans hadn't yet heard the worst of the prison scandal.
Remnick, taking note of Saddam Hussein's atrocious human rights record, asked Hersh: "Are we not better off?"
Hersh was skeptical. "The people who were being killed by Saddam are now being killed by us."
Remnick: "There is no moral difference?"
Hersh replied that the war didn't stem terrorism, and probably helped support for terrorism grow.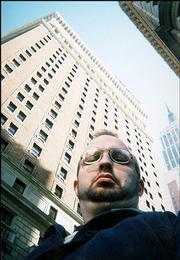 "Let's face it folks," Hersh said. "This is a war we can't win."
¢ Oct. 1: Authors Donald Antrim and Zadie Smith give readings of their work.
Antrim wrote the novels "Elect Mr. Robinson for a Better World," "The Hundred Brothers," and "The Verificationist." I haven't read those books; I'm only familiar with the short memoir pieces he's written for The New Yorker.
I was there for Smith -- author of "White Teeth" and "The Autograph Man" -- who is one of my favorite novelists.
Antrim read "AKA Sam," a memoir piece about his late uncle. Smith read "Hanwell in Hell," a short story about two older men having a horrible night in an English pub.
The two are excellent writers; it turns out neither are excellent readers. Both were deadpan to the point of monotone. Some authors are good at public performance; some are not.
During the question session after the readings, Smith was asked about her penchant for writing from the points-of-view of men.
"Sometimes," she said, "when men don't express themselves properly, I do it for them."
¢ Oct. 2: a seminar on literature and politics.
The panel is made up of Edwidge Danticat, the Haiti-born author of "Krik? Krak!" a short-story collection, and several novels; Dave Eggers, best-known for "A Heartbreaking Work of Staggering Genius," who is now working on a satiric political novel-in-progress for Salon.com; Cynthia Ozick, author of "The Shawl," which takes place during a march to a Nazi concentration camp; and Orhan Pamuk, the Turkish author of "Snow" and other novels.
Deborah Treisman, The New Yorker's fiction editor, asked if authors "should be holding a mirror up to the world for us, or whether they should provide a refuge?"
The authors agreed that they couldn't help but infuse their novels with some politics. But they also seemed to agree that politics should be subordinate to the story in fiction.
"There's no way to disguise what I believe," said Eggers, whose politics are liberal. "But I hope it would be illuminating to the reader, instead of partisan and polemic."
¢ Oct. 2: A panel on political advertising.
The crowd of 300 people at the New York Public Library was overwhelmingly Democratic; they hissed and grumbled when Mark McKinnon, President Bush's campaign advertising manager, was introduced.
"You are in a blue area in a blue state," noted Jeffrey Toobin, the CNN legal analyst who moderated the event.
The experts on hand explained campaign advertisements were targeted to a relatively few voters -- those who haven't already made up their minds which candidate to support.
And they said they continued to use negative advertisements because they worked.
"You go back to the 1800s, they did the same thing -- they just tacked it onto trees," McKinnon said.
Donna Brazile, Al Gore's campaign manager in 2000, agreed.
"I wouldn't take it out of my arsenal," she said. "You've got to paint them if they're going to paint you."