Forget about wearing your emotions on your sleeve.
This time of year people with strong feelings about political candidates and issues are turning themselves into walking billboards by wearing T-shirts emblazoned with political slogans.
"There are not many political forums for people to discuss their views and T-shirts are one way to do that, and it makes it kind of fun," said Matt Ridgway, a Lawrence artist who has designed some of the more popular shirts selling in Lawrence.
In "liberal Lawrence," as conservative radio commentator Rush Limbaugh recently called it, the hot-selling political T-shirts seem to be, if not pro-Kerry, at least anti-Bush or anti-war.
At The Third Planet, 2 E. Ninth St., there is no attempt at impartiality. You won't find any T-shirts proclaiming support for President George W. Bush, Vice President Dick Cheney or the conservative viewpoint.
"We are not bipartisan here," said store manager Melissa Padgett. "We feel you should really put your money where your mouth is at this time. That's what consumers do and we're just a bigger consumer as a small business. We don't want to support a company that says 'go vote for Bush.'"
Bipartisan efforts
But not all downtown store owners are as adamant about keeping their merchandise on the Democrats' side of the political divide.
Derek Hogan, owner of Flush, 17 E. 7th St., offers a number of politically themed graphics that customers can have screened onto T-shirts. He said he doesn't sell any pro-Bush designs, but it isn't a calculated move.
"It's just a coincidence, because I have distributors and none of them have pro-Bush stuff," Hogan said.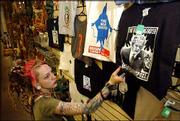 But Flush has had its share of customers seeking out pro-Bush gear. Hogan said he has had several customers come in to design their own pro-Bush shirts.
"We have people who will ask us to put the words 'I love' over a picture of Bush," he said. "But most of the stuff we sell is pro-Kerry."
The deficit of Republican-friendly clothing in Lawrence has forced devout GOP members to the Internet for their shopping this political season.
Justin McFarland, president of the Kansas University College Republicans, said he thought Lawrence businesses might be missing out on a good business opportunity.
"You have to go to the Internet to get pro-Bush stuff," he said. "I think that it's just that some of the store owners here are pretty liberal. But I do think there would be a good market here for Bush shirts -- there is a pretty good number of Bush supporters here."
Bush-whacking
For the pro-Kerry camp, though, designing clever anti-Bush tees has become something of a cottage industry.
Among the more popular T-shirts at Third Planet is Ridgway's Nuclear Cowboy, Padgett said. The idea for the shirt's art design actually occurred to Ridgway a couple years ago when he was still an art student at Kansas University working on a special project.
"I saw this Marlboro Cowboy on a horse galloping across the fields and it reminded me of a certain person in a high place," Ridgway said with a chuckle. "I put a nuclear bomb in his hand."
Lawrence graphic artist Ryan Red Corn credits his dad with coming up with a slogan he put on a Bush T-shirt. It says: "Free Speech, Manifest Density."
"George Bush, I believe, isn't the smartest president we've ever had," Red Corn said.
Another favorite T-shirt at Third Planet also is Red Corn's, with a reference to Bush's Texas background and a tie-in to Iraq.
"I wish people from Texas would just stay in their own country," the slogan reads.
That shirt has proved popular with Internet buyers in Europe and Australia, as well as University of Oklahoma football fans, he said.
Here are some samples from other shirts in Lawrence or elsewhere: "I'm so anti-Bush I shave;" "Proud to be Republican; Mean, greedy, ugly people;" and one with the words "Dumb ass" under a picture of Bush.
Some of the T-shirts, stickers and buttons feature language that keep them out of the storefront window. In fact, Padgett said she once was asked by Lawrence Police to remove a sticker from the window because it contained an obscenity. Nevertheless, they all are selling well, she said.
The T-shirts are sold on consignment, which means designers set their retail prices and take back what doesn't sell so the store isn't stuck with them. They range in price from about $14 to $22. Most of the best-sellers have come from Lawrence designers, including others besides Red Corn and Ridgway.
"Traditionally, T-shirts haven't sold all that well for us, but this year we've been having a banner year," Padgett said. "Somebody's bringing in T-shirts every day."
-- Staff writer Jay Senter contributed to this report.