Tuesday, October 12, 2004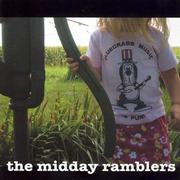 If Split Lip Rayfield is the red-headed stepchild of local bluegrass bands, then The Midday Ramblers are likely the valedictorians.
Where Split Lip thrives on heavy-metal mandolin licks and songs about unmentionables, The Midday Ramblers offer a first-class NPR-friendly bluegrass experience. That's not to say they're wussies; they just have fewer tattoos, a few more fancy ties and a bit more tradition in their bluegrass stew. Plus, they have three more strings on their upright bass and it's not made from a gas tank.
"Bluegrass Music Is Fun" picks up where the band's first two albums left off: an accomplished blend of originals, traditional songs and instrumentals. The 14-song album was flawlessly recorded live (with a little cheatin') and accurately captures the earthy tenors of the Ramblers' guitar, banjo, mandolin and upright bass.
Album Mp3s

bluegrass music is fun!
The Rambler originals are hard to distinguish from the covers, which include Ralph Stanley's "Kitten and the Cat" as well as traditional numbers like "John Hardy" and "Katy Cline." All four members contribute to the songwriting process, creating a welcome diversity that's held together by the band's skillful instrumental abilities.
"I Don't Go Steppin' Out" exclaims the fruits of a faithful domestic life, while "Every Day I Forget You" could give a lonesome Hank Williams a run for his money (yodeling and all). "Come Back Sweetheart" matches Paul Schmidt's homey baritone to Mike Horan's high lonesome tenor, while instrumentals like "Skeeter Bit" and "Banjo Tickle" veer somewhere between the jamgrass of Bela Fleck and the instrumental compositions of Bill Monroe.
The Midday Ramblers aren't taking many chances on "Bluegrass Music Is Fun," but that's not really the point. The Ramblers are more about carrying on a tradition and having a good time doing it - and at that, they're more than capable.