Tuesday, October 12, 2004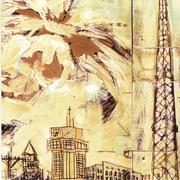 It's always been apparent that there was more to Split Lip Rayfield than bluegrass.
Perhaps that's no more evident than on the third solo album from Split Lip guitarist Kirk Rundstrom. "Same Ugly Town" pairs Rundstrom with Split Lip banjo-slayer Eric Mardis and a cast of other local musicians to give Rundstrom's roots-inspired pub anthems a decidedly different workout.
The first thing you find out about "Same Ugly Town" is that it's not bluegrass. It's a little folk, a little rock and roll and a little heavy metal - all in the first song. "Leaving" opens up like an R.E.M. song before breaking out the Marshall stacks and kicking out some Sabbath-caliber electric guitar riffs. The sudden changes are bit disconcerting, but somehow it works.
Album Mp3s
Same Ugly Town
Rundstrom continues this genre-be-damned approach on the rest of the album. "Bottle of Full Heaven" seems to contain three entirely different song ideas that somehow got smashed into one. "John Brown" is a full-on headbanger that doubles as a local history lesson, while "Running" and "Gently" are slow jams that could be mistaken for Widespread Panic outtakes.
Though Rundstrom's desire to experiment is understandable, the best songs on "Same Ugly Town" are the ones that stick to the old formula - a good tune, a couple a' thoughts about life and some seasoned picking. "Abilene" and "Easy Life" are examples of this approach, and they beat the pants off the tedious reverb-and-effect-drenched "Sunshine."
Mardis brings the guit-axe on songs like "Gently" and "Drink Lot's A Whiskey" (Um, isn't that song on every Rundstrom-related album?). Though his shredding skills are undeniable, they occasionally border on overkill (Yngwie Malmsteen anyone?). Rob Bernard's scattered Wurlitzer contributions are a nice touch, as are harmony vocals from Amy Boone and Deborah Kelly.
Fans of Split Lip Rayfield should approach "Same Ugly Town" with caution. With a little patience and an open mind however, the disc offers enough gems to warrant a look.