Saturday, October 16, 2004
It might be the biggest, scariest proclamation in city history.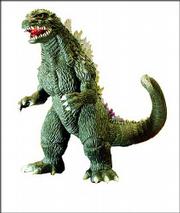 City commissioners Tuesday night are slated to designate Oct. 24-30 as "Godzilla Week."
Honored guest though the Japanese movie celebrity may be, there is one particular type of havoc from which the monster must refrain while indoors at public places.
"He can be fire-breathing," said Assistant City Manager Dave Corliss. "But he better not be smoking."
The proclamation accompanies an Oct. 28-30 conference at Kansas University, "In Godzilla's Footsteps: Japanese Pop Culture Icons on the Global Stage," sponsored by KU's Center for East Asian Studies.
The three-day scholarly conference isn't just about celebrating the creature features many people grew up with and still love. Conference participants want to get people thinking about globalization, the rise of Japanese pop culture and Japanese-American relations after World War II.
"I would like people to take Godzilla more seriously," said Bill Tsutsui, a Kansas history professor and a fan since childhood. He helped organize the conference.
But not so seriously they don't have fun with it.
"The King of the Monsters demands respect and the supplication of the masses," Tsutsui said. "So it is only right that Lawrence proclaim Godzilla Week on the occasion of his 50th birthday and visit to Lawrence. A similar proclamation was requested from Governor Sebelius, but she declined. Either the governor must not have a very good sense of humor or she must not know the power of Godzilla. I'm expecting Godzilla to vaporize Topeka."
The week's programs will feature scholars from around the world, screenings of three Godzilla films, staged readings of original plays, museum and library exhibitions, and a series of talks and book-signings.
Organizers plan to inflate a 28-foot Godzilla balloon atop Liberty Hall, where the films will play, and items from Tsutsui's own private collection of Godzilla memorabilia will be displayed in the university's main library through the end of the year. Tsutsui also wrote a recently published book, "Godzilla on My Mind," discussing the history of the monster's movies and appeal.
Japan's Toho Co. has produced 27 Godzilla films in five decades, with a 28th, "Godzilla: Final Wars," to be released in December. An American "Godzilla" was released in 1998, though many aficionados don't consider it a true Godzilla movie.
Past Event
Monday, October 18, 2004, 7 p.m.
Lawrence Public Library, 707 Vermont St., Lawrence
All ages / Free
Tsutsui said he and Michiko Ito, the university's Japanese studies librarian, hit upon the idea of a conference two years ago. They'd organized a local, two-day Godzilla film festival in 2000.
The conference budget is $50,000, with two Japanese foundations providing $35,000 in grants and the university picking up the rest of the cost.
Takao Shibata, the Japanese consul general in Kansas City, Mo., said the conference would educate people about his nation but acknowledged, "The idea of this kind of serious analysis of the evolution of Godzilla -- it never occurred to me."
-- The Associated Press contributed to this report.