Audio samples from Dangerous Curves: Breast Cancer Journeys
Kathy Tate's first wig matched her own hair. Color, style -- it was all the same.
Then the lifelong brunette got bold and went blond.
Before her chemotherapy was over, Tate had spent a small fortune and become well-acquainted with the owner of a certain Kansas City wig shop.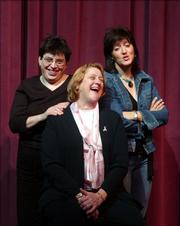 But she figured if she had to lose her locks to fight breast cancer, she might as well have fun with it.
"I have one that's called glazed strawberry. I have one that's called glazed flame -- it's very red. I had auburn. I had ones that were frosted," Tate says. "I had one that I called my Tina Turner wig."
Her multiple hair personalities became a joke at the Douglas County Sheriff's Office, where Tate is a lieutenant and spokeswoman. When the sheriff was looking for Tate, he'd ask what color her hair was that day.
Past Event
Friday, October 22, 2004, 7:30 p.m.
Lawrence Arts Center, 940 New Hampshire St., Lawrence
All ages / $5 - $15
"I'd get up in the morning and pick out my hair first and THEN decide what I was going to wear," Tate recalls, laughing. "Sometimes I'd even change in the middle of the day."
Twelve wigs later, Tate says her obsession was all about empowerment. And next weekend, she'll see her motley accumulation of faux hair paraded on the Lawrence Arts Center stage when the Prairie Wind Dancers perform "What Color Do I Want My Hair to Be Today?"
The kooky dance is part of "Dangerous Curves: Breast Cancer Journeys," a multimedia performance that combines the choreography of arts center dance director Candi Baker, the poetry of Lawrence writer Caryn Mirriam-Goldberg and the soulful singing and songwriting of blues artist Kelley Hunt. The collaboration recognizes the stories of breast cancer survivors and honors those who have succumbed to the disease.

The program wends through a breast cancer chronology inspired mostly by the experiences of Baker and Mirriam-Goldberg, both breast cancer survivors. The lively homage to Tate's ever-changing coiffure falls midway through the performance and features a song called "The Wig Chalet," which Hunt serendipitously recorded a few years ago and had not yet found a use for.
"And it's perfect," says Baker, who befriended Tate through their mutual involvement with the arts center's breast cancer awareness project. "It's about feeling down, seeing this wig chalet with blond, brunette, redhead, and going in and finding a wig and feeling like, 'I can be anything I want to be.'"
Unexpected outcomes
Predictably, not every section of "Dangerous Curves" will make audiences laugh. In an attempt to authentically depict the breast cancer experience, the poems, songs and dances get honest about the fear, pain, danger and mourning involved in the fight against the disease.
Early in the performance, one of the Prairie Wind Dancers sits on stage reading a book. The other dancers -- cloaked in shadowy black hoods -- appear and seem to multiply behind her as they dance aggressively. Through it all, the reader remains oblivious.
"The thing about breast cancer for me and for many of us is you don't know it's going on," Baker says. "That's the thing about cancer that for me I have never quite gotten over. You don't know this is there until you can feel it or see it or whatever. And often by that time, with many cancers, it's pretty bad by the time you have symptoms."
Coming to grips with the way breast cancer changes life is also part of the journey. Many of the poems by Mirriam-Goldberg, who had a double mastectomy as part of her treatment, address that issue.
"Breastless" grapples with the physical changes: "The slim trails of stitches, crooked line / that climbs a little, dives a little / across each side."
Whereas "I Want to Tell You How Beautiful You Are" communicates acceptance: "I want to tell you, believe this now, / stop doubting that because it's not / what you wanted, what you expected, / it's not beauty."
Several dances are set to Mirriam-Goldberg's poems, which she'll read during the performance.
"These poems are very much about living in the body, and what kind of pushed me toward writing these poems was to understand more about how I could be more fully present in my body. So to watch these other bodies dance them out just kind of blows my mind," she says.
"But it's also very interesting to watch people who are a generation younger than me dance these words -- people who have experienced their own losses and are struggling with their own issues and their own gifts. But here they are embodying the kinds of experiences that are going to happen to their generation in another 20 or so years."
Healing through the arts
Like Mirriam-Goldberg and her words, Hunt had not seen choreography set to her music until a few weeks ago, when she watched the company rehearse a dance built around "Stronger Wings," a song Hunt wrote for a friend who died of breast cancer.
The experience has been good for Hunt's soul, she says.
"Candi's choreography was like a physical manifestation of what I was trying to say with the music," she says. "I was really taken aback and very moved by it. It was a real emotional thing for me to see it for the first time."
Hunt and Mirriam-Goldberg have collaborated to write a new song for "Dangerous Curves" called "Love Heals."
"It's kind of based on the idea that these things in life happen -- and some of them are heartbreaking and very sad, and some of them are joyous and amazing. But in almost every case, it's not what we thought it would be," Mirriam-Goldberg explains. "We were both thinking about how love heals, but not the way you think. So in fact the chorus is, 'Love heals, but not the way you think.'"
Prairie Wind dancer Whitney Boomer says hearing stories like Baker's, Mirriam-Goldberg's and Tate's has been enlightening.
"None of us have gone through what it is we are portraying," Boomer says of herself and her fellow dancers. "We need to have a sense of how to get the message across with the right feeling, the right emotion."
For Mirriam-Goldberg, working on "Dangerous Curves" (and the complementary poetry collection, "Reading the Body") has helped her understand that loving her body is an ongoing action.
"That means treating myself with respect and love, more than worrying about whether I fit what I thought I should look like," she says. "I wouldn't say that cancer has erased all body-image issues from my life for the rest of eternity. That doesn't go away.
"But it definitely puts them in perspective, that this body that could get cancer is also this body that could heal."