Sculptor Marc Berghaus knows how your mind works.
He knows because it's how his mind works, too.
For centuries, humans have attempted to explain how and why things happen by looking for patterns and attempting to impose rigid systems on phenomena that are anything but predictable.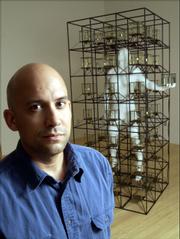 Sometimes we succeed. Most of the time we don't.
"What I do is about chance and causality, why things happen and why people THINK things happen," says Berghaus, a 1991 Kansas University graduate who now lives in Meade. "These sculptures are all about grids as systems of organization to try to conquer or understand what people can't really understand.
"I kind of like that contrast, the futility of it and also the nobility of trying over and over."
The pieces in "Rules & Regulations 1-7," an exhibition on view Monday through Nov. 30 at the Lawrence Arts Center, illustrate and pay homage to those noble attempts.
In at least one artistic experiment, "Rules & Regulations No. 3," Berghaus wins. Small bottles suspended inside a three-dimensional wooden grid contain the remnants of his victory.
Every time Berghaus rolled a die and it landed on a number he hadn't predicted, he smashed it and put it in one of the bottles. He played the same game with tarot cards, weather reports, playing cards, coins and linear equations.
"And so, for that day," Berghaus says, "I was able to defeat chance by destroying whatever didn't agree with my predictions."
Element of chance
He wasn't as lucky when it came to forecasting where he'd live and what he'd be doing for a living in his mid-30s.
After graduating from KU with a degree in East Asian history (he took art classes for a year but couldn't find a satisfying focus), Berghaus opened Junior's Farm Records in downtown Lawrence. The venture survived three years before competition from chain stores forced Berghaus out of business and back to his southwest Kansas hometown to pay off his debt.
Now he earns a paycheck by recycling aluminum irrigation pipe, "which is a pretty miserable job," Berghaus says.
In the meantime, however, he married his long-time girlfriend, Lawrencian Jeanne Bracciano, and dragged her "kicking and screaming into the vast, treeless expanse of western Kansas."
He also tried his hand at sculpture. The first piece he ever created -- the year after he graduated -- was accepted into the River Market Regional Exhibition in Kansas City.
Since then, Berghaus has shown his work in solo and group exhibitions at galleries and arts centers in Kansas, Colorado, New Mexico, Missouri and Illinois.
Arts center gallery director Rick Mitchell appreciates the fact that Berghaus wasn't trained in an art school, but rather harvests his ideas from other life experiences. Mitchell also is intrigued by the elements of chance in Berghaus' work.
"It's really very much about a formal structure and then things that can happen within a structure that may be unpredictable," Mitchell says.
Moments of clarity
Despite the fact that Berghaus would rather be living in Lawrence, he has made the most of what he hopes is a temporary existence in Meade, a town of 1,600 about 40 miles northeast of Liberal.
He has converted the entire basement of his 100-year-old house into a studio, where he brings his precise designs to life in wood and metal. The strength of his creative drive might best be evidenced by the hole he cut in his dining-room floor.
"The only way to get into the basement was to go out the back door, around through the nasty cellar doors and through another door," Berghaus says. "I was just going up and down constantly, so I just cut a trap door in the dining room."
So much for the futility of human endeavors.
Berghaus' work seems to suggest that such little moments of clarity make seemingly endless quests worthwhile.
"Rules & Regulations No. 7" is like that.
A quartet of tiny metal men on the end of rods rotate below another foursome identically arranged except that one man has been replaced with a propeller that emulates a set of wings. The gears rotate at slightly different speeds.
"Only every once in a while will they actually line up so the little man will get his little wings, and even then he loses them in an instant and tumbles down again," Berghaus explains. "And it will take, I forget how many rotations for them to line up correctly again. But it's a neat little moment when they do."
Questions with no answers
Interestingly, the most monumental piece in the show elicits no explanation from Berghaus.
"Rules & Regulations No. 2" stands over 7 feet tall. A stark white, nude male made of fiberglass is suspended inside a metal grid that supports 53 glass cubes. Brass fish cut-outs rotate inside each cube -- except for the one that the man holds in the hand that's extended outside the grid. There, a red beta fish swims.
"I never know what to say about this one. I've never written a statement or anything," Berghaus says. "These are all uniform and regular, and then the one that's being held outside is full of life.
"It's been shown a lot and I always get different reactions from what people think it is, and I just kind of let them decide rather than come up with a firm statement about this one."
In a way, his silence falls right in line with what he says is his ultimate purpose for creating the sculptures.
"I don't have any answers," he admits. "I just like to ask the questions."
More like this story on Lawrence.com