Thursday, October 21, 2004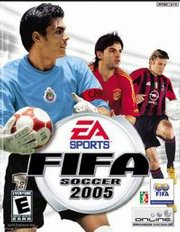 FIFA soccer has had a rich history. Starting its 11th year with FIFA 2005, it remains to be the best-selling soccer title in America. And although its solid gameplay has had trouble in the past couple of years living up to the Winning Eleven series, this year puts FIFA back in heated contention from a gameplay standpoint.
The most notable change to FIFA's gameplay this year is the First Touch system which allows for more accurate button presses and analog control. This gives you many more options for trapping, flipping the ball and using your player's momentum to further the ball. By simply touching the right analog stick in a specific direction before you receive a pass, the player will field the ball in front of that specific direction. The animations have been overhauled as well, to completely refresh the core game on the field. All of these changes take a few minutes to get used to, but soon provide the much needed upgrade FIFA has needed. We've gone from accessible arcade play to simulation-style soccer in one year. Amazing.
Reaction is a huge element of FIFA that has also been refined. Every player on your team reacts with correct context, unless the team sucks. There will be much less kicking out of bounds for no apparent reason. There will be much smarter slide tackles and leniency from the officials.
Franchise mode has also received an overhaul with better organized menus, roster management and on-the-field coach control. You can spend an amazing amount of time training each specific player on your team to prepare for the upcoming matches.
There are over 350 official licenses that include 18 leagues, 40 national teams, 11,000 players. That's a lot of jerseys to recreate. The Mexican league has finally been added as well, this year. When you go into the new Creation Zone, you can build players from the face down, which adds a deeper element to creating your team.
The new lighting and shadowing system is also superb, creating realistic stadium environments. Some of the lesser known player faces don't really get the treatment of the famous ones, but that is to be expected. The commentary by Ally McCoist and John Motson provide the same great chemistry, although the repetition of familiar phrases comes too soon and too often.
FIFA 2005 takes everything that used to be outdated and gives it a fresh coat of paint. What results is a great game of soccer that puts the series in a dead heat with Winning Eleven 7.
Graphics: A-
Sound: B
First Play: B+
Last Play: A
Gameplay: A-
Overall: 90% A-
More like this story on Lawrence.com