"You guys are good -- that didn't even take 24 hours," says the mechanic who missed his court date and was apprehended at work by bounty hunters Brock Robson, 20 and Gerard Kleinsmith, 38.
Robson pulls over the Dodge Durango about a block away from the car dealership so Kleinsmith can call to make sure their subject was at work. Once confirmed, Kleinsmith grabs handcuffs, pepper spray and a nightstick. As they drive up to the garage, the subject is standing outside smoking a cigarette, having no idea he is about to be arrested.
Kleinsmith walks calmly up to the mechanic introducing himself, asking him to tell his boss he is leaving for the day. The mechanic complies, allowing himself to be handcuffed. There is no running or fighting or even screaming -- unlike a new reality series depicting life as a bounty hunter or bail bondsman, where violence is rampant and the criminals are always caught.
"Family Bonds," HBO's hit program, follows a Long Island family whose patriarch -- the chain-smoking, Harley-riding, foul-mouthed Tom Evangelista -- owns All City Bail Bonds. The show follows Evangelista at work and at home, surrounded by a crazy cast of characters (family members). Recently Evangelista's son Sal joined the business, which already included his nephew Chris, daughter Dana and wife Flo.
Most of the action happens at night, when the crew of bounty hunters scours New York City and its surrounding areas looking for those who skipped court. When they apprehend a criminal, doors get kicked in and clients run. But is the show an accurate portrayal of the business?
According to bail bondsman Steve Robson and his bounty hunter son Brock, the series is a bit flashy and not indicative of the day-to-day routine.
"The show reminds me of a fishin' show," Steve explains. "It takes seven days to see a 30-minute show where they catch two fish. It's the same way with this show: They're showing a 30-minute show where they catch two people. It probably took them two weeks to make that show."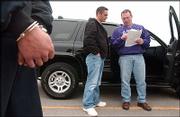 'No good reason'
The incident with the mechanic is a better example of what their clients are like. Robson says he's an easy pickup -- he didn't run or refuse to be handcuffed.
"Really smooth. That's the easiest you do it," he says.
About three years ago, the mechanic was arrested in Washington for a traffic violation, since then he has been driving on a suspended license. He was pulled over this July for a cracked windshield and was arrested.
That's when a bail bondsman comes into the picture. Steve leaves his cards in the booking room for potential clients. His business is open 24 hours a day, seven days a week. When they call, Steve tells them they need to come up with 10 percent of the bond. A co-signer can be anyone, but if a client skips town the co-signer becomes responsible for the entirety of the bond.
The most common scenario is that the client can come up with the money through his co-signer, which is usually a family member. The co-signer meets Steve at the jail, they sign the paperwork and he becomes responsible for the client. After they bail out, they promise to appear in court. And Steve used to believe them, but after three years he's seen it all.
"Anyone on any given day will miss a court date for no good reason," Steve explains. "And it's always the same story: my lawyer screwed up the paperwork, I lost the paperwork, nobody called and told me I had a court date. You get used to it."
What: HBO's "Family Bonds"
When: 9 p.m. Sundays
Where: Sunflower Broadband Channel 401
On the hunt
That's when the bounty hunters get to work.
After the mechanic is dropped off at Douglas County Jail, the bounty hunters are on to their next client. Kleinsmith refers to their notebook which measures their progress. The book documents each client, complete with photos, places they might be staying at, and the names of relatives and friends.
Brock and Kleinsmith decide to venture to Ottawa. For the past two weeks they have been chasing a man they deemed "the drifter," who has violated his parole. The clock is ticking, he is due in court this week and if he isn't found, the co-signer (a childhood friend) will be responsible.
On this case they have mainly done surveillance. A normal day involves driving around, making phone calls and a lot of door knocking. According to "Family Bonds," a usual day involves door kicking and always apprehending a client. The Evangelista clan goes on assignment with full riot police-type regalia.
"For one thing you're not gonna catch anybody walking down the street with badges hangin' off ya, and bulletproof vests and cans of mace," explains Steve, who used to be a bounty hunter as well as a bondsman, but found it too time consuming.
"You gotta be smarter," he continues. "It takes a smarter person to catch these guys than a stronger person. You gotta outsmart 'em. Sometimes you gotta tell them stories to get them convinced you're on their side."
But in this case, the guys are convinced everybody is lying to them, covering for their friend. Kleinsmith says this is unusual; most times a family member turns the client in or someone gives an anonymous tip.
Success rate
The trip to Ottawa is not successful. After visits to his father, his co-signer and his mother's home, there are no new leads. But the trip is not a waste of time.
"Sometimes you gotta stir it up and then leave it alone," Brock says.
But Steve has faith in his bounty hunters, in the past three years he has only lost money on one case.
"Ninety-five percent of this job is the easiest job in the world," he says. "The other five percent, it's the hardest job you'll ever have."