Maybe Mrs. Mia Wallace look-alikes impaled on hypodermic needles won't ever go out of style.
After all, "Pulp Fiction" is a cult classic. And who can forget the scene where Vincent Vega (John Travolta) plunges an adrenaline-packed needle into Uma Thurman's chest when she ODs after accidentally snorting his heroin through a rolled hundred dollar bill?
It's classic.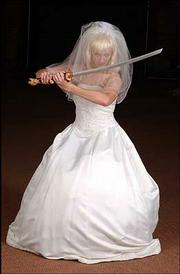 But pop culture marches on, and this year it's ripe with clever Halloween costume ideas.
Quentin Tarantino has even put out a couple of new Uma-centered movies in "Kill Bill Vol. 1" and "Kill Bill Vol. 2." So character appropriators can swap black wigs for blond ones and trade in their syringes for samurai swords.
Retailers say it's too early to tell which costumes will be most popular among Lawrence partygoers this year, but in the interest of stimulating creative ideas, we mined news, television and film to come up with a few jumping-off points. There's even a local option:
¢ Samurai Bride: Start with a wedding dress (probably not one you're interested in preserving). If you're not already blond, get a wig or spray your hair. A plastic samurai sword completes the look. For a gorier interpretation, fatten your belly with a pillow and splatter the dress with fake blood. It may seem gratuitous, but hey, it's Tarantino, and The Bride in "Kill Bill" was gunned down while pregnant.
¢ Sky Captain: Be the ace aviator played by Jude Law in "Sky Captain and the World of Tomorrow," the oddly futuristic yet retro film shot entirely in front of a blue screen, with digital effects added later. You'll need an aviator get-up, complete with skullcap, goggles, scarf and jacket. We borrowed the real deal from local pilot Nelson Krueger; if you've got friends in high places, you can do the same. Otherwise, retailers like Fun and Games, 816 Mass., sell affordable stand-ins. We added a green cardboard screen (because people are more familiar with green screens than blue screens) to complete the high-concept look.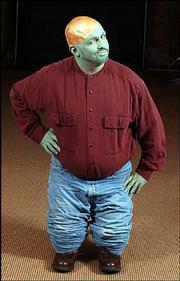 ¢ "The Scream" Thief: We don't want to glorify art pilferage. But in the long tradition of art imitating life (assuming clever costumes are an art form), why not dress up as one of the thieves who stole Edvard Munch's "The Scream" from a museum in Norway this summer? All you have to do is dress in black, including a ski mask and gloves, and get your hands on a reproduction of "The Scream." This shouldn't be difficult, since it's on everything from T-shirts and mouse pads to coffee mugs and calendars. We borrowed our print from Fields Gallery, 712 Mass., where you could buy it for $23.
¢ "Self-Portrait as a Midget": This sculpture of five fiberglass men by Texas artist Gary Mark gained notoriety for condemnable reasons. It had to be moved from its perch in front of Teller's to a more secure spot near the Judicial and Law Enforcement Center after nearly being destroyed by repeated abuse from passers-by. (There were reports of midget-head humping, but we can neither confirm nor deny those charges). In homage to the brave little guys, we dressed a model in the dwarves' telltale red shirt and blue jeans, then painted his face and hair to mimic their strange, otherworldly look. If you're not already short, you could try walking around on your knees all night. But that can't be good for your knees.
If none of these ideas floats your masquerade boat, never fear. Think of the possibilities inherent in the hobbit-laden "Lord of the Rings," the all-marionette "Team America," Martha Stewart's prison holiday and Rush Limbaugh's drug addiction. And for those not afraid of being offensive, there's always the option of donning a Dick Cheney mask and commanding everyone you meet on Halloween to "F*** off."
Halloween's for grown-ups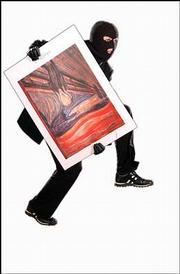 Kyle Billings, owner of Fun and Games, says customers continue to show interest in characters from old television shows and movies, "not so much good movies, but bad movies." He predicts the store's wide selection of political masks will fly off the racks during this election-year holiday.
Teri Williams, manager of Arizona Trading Co., 734 Mass., thinks people might start catching on to "Lord of the Rings" costumes.
"I feel like maybe last year was too soon, even though the movies had been out for a while," she says.
But she knows she can count on one constant.
"We get a lot of college-age boys in here wanting to be a pimp REALLY bad," she says. "We usually buy purple fake fur coats for that purpose."
About one-third of adults surveyed by the National Retail Federation said they planned to wear a costume this year.
"Over the last decade, Halloween has become an adult holiday while children have become secondary for many retailers," says James Lowry, a retail analyst and marketing professor at Ball State University in Muncie, Ind. "Adults want to relive that time when they could pretend to be a superhero or monster."
Or a sword-fighting bride.
The Associated Press contributed to this story.
More like this story on Lawrence.com