Wednesday, October 27, 2004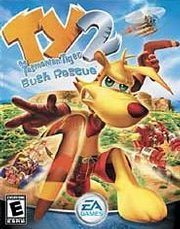 Ty the Tasmanian Tiger appeared on the platformer scene two years ago with its Australian themed world centralized by some very general action mechanics. It didn't do anything that we haven't seen before, but it was also geared toward a younger audience.
Ty 2: Bush Rescue has the beloved tiger roaming around in a more expansive world than its predecessor, collecting opals along the way to help purchase new and better boomerangs to make the combat more fun and less stressful like the forceful Smasharang or the fiery Flamerang. Along the way you can also purchase equipment upgrades that will enable Ty to explore more dangerous areas. It is in this mission-based dynamic that Ty really improves on its previous effort. More missions will open up via colored alerts on your PDA to move the game along.
The new driving and flying missions add a new dynamic to the series. Certain missions have you driving around in a submarine, trucks and even my favorite, the helicopter, which can use a grappling hook for some decent rescuing missions. All of the new vehicles perform rather well and really accentuate how uninterrupted the huge environments are.
The cart racing mode is yet another feature that can make Ty last longer than most platformers. Patterned after Mario Kart, the event is fun but not as prolific as Nintendo's prized franchise.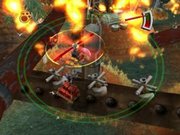 In over 50 missions, Ty does get to be fairly repetitive not because of the lack of things to do, but because despite adding features to the franchise, it doesn't provide anything new for the genre. Gamers bred on games like Ratchet & Clank or Sly will find little in Ty 2 to entertain them. Still, what is there is solid gameplay and should hold its own, even though it is not near as challenging as the aforementioned games.
Ty's animations have greatly improved, but like its gameplay, the graphics do nothing spectacular to stand out, and many of the characters are fairly blocky. The sound is a fun mix of appropriately themed Aussie tunes and is exactly what you'd expect.
Ty 2 does a respectable job improving on its own gameplay, but much more was needed to make it stand out amongst the current generation of platforming goodness. But if you're bored and need something to rent for a weekend, Ty 2 should do the trick.
Graphics: B-
Sound: B
First Play: B
Last Play: B
Gameplay: C
Overall: 79% C+
More like this story on Lawrence.com