Lawrence is about to be flooded with Madonna condoms.
The Douglas County AIDS Project is the winner of a nationwide contest with a grand prize of 21,000 "Madonna Condoms." The condoms, which feature a photo of the pop singer on the box and wrapper, will be handed out by Madonna look-alike drag queens during Gay Pride Week this spring on the Kansas University campus.
The giveaway, sponsored by an online condom retailer, is an effort to promote safer sex. The local AIDs project beat dozens of entrants nationwide because of the detailed, Madonna-themed distribution plan described in its application.
"They clearly had put the most amount of thought into the creative use of the condoms," said Adam Glickman, CEO of Condomania, the Los Angeles-based company that sponsored the contest.
But the giveaway has a serious side.
Glickman and a Douglas County health official said it had been more difficult for agencies to find money for condoms, in part because the Bush administration is steering more money toward abstinence-only education programs.
For example, this year the local AIDS project received $40,000 for outreach programs in a grant from the Kansas Department of Health and Environment. The grant trickles down from federal money. Last year, it received $52,000 through the grant.
The AIDS project had about $500 budgeted to buy condoms this year, said executive director Geri Summers.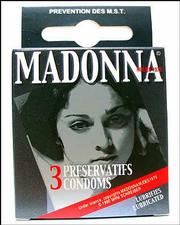 "This was a blessing," she said.
Glickman said his company gave away Madonna condoms -- which sell for $3 to $5 per three-pack -- instead of plain ones as a way to get people excited about using them. The singer is known for her steamy songs and videos.
"We knew that if we really wanted to inspire young people, multicolored condoms simply weren't going to cut it," he said.
Madonna doesn't get a cut of money from sale of the condoms, Glickman said. The photo on the boxes was taken in 1979, years before she became a star. At the time, he said, Madonna signed away the rights to use the photo alongside her name.
An online product description says, "Madonna Condoms, like the singer, are strong, silky and sensuous, and sure to make you feel like it's the very first time."
Some critics say handing out condoms encourages young people to be promiscuous. Summers said people who thought that needed a "reality check" about college students and their sexual activity.
The Douglas County AIDS Project is offering free AIDS testing from 10 a.m. to 6 p.m. today at its office, 2518 Ridge Court. For more information, call 843-0040.
"We're up here doing testing today, and I'm sure I could blow you away with some of the stories we're getting from people telling why they think they might be HIV-positive," she said.
The Gay Pride Week drag show usually is performed in April along Jayhawk Boulevard. The plan is for employees and volunteers of the AIDS project to dress as Madonna during various stages of her career and lip-sync at the drag show to hits such as "Like a Virgin" and "Papa Don't Preach" -- all while handing out condoms.
Buck Rowland, outreach director of the AIDS project, has the challenge of rounding up the Madonna impersonators.
"I have a lot of dedicated faithful volunteers upon whom I will be calling," he said. "If you feel 'Like a Virgin,' call us."
More like this story on Lawrence.com