Wednesday, September 1, 2004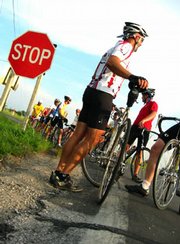 I did NOT ride my bike to work today.
Like the rest of society, I drove my oversized, gas-guzzling station wagon exactly one mile and limped into work lathered in the fumes of sweet American excess.
Ordinarily, I might feel guilty about this. But not today. Today I'm still reveling in the glory of successfully completing a 22-mile "Pasta Ride" with the Lawrence Bicycle Club. I'm a little sore, but not nearly as sore as I expected to be. In fact, one might even say I feel rejuvenated. Like those guys in the Gatorade or Irish Spring commercials, but with better music playing.
I didn't expect it to turn out so well. My first thought when I pulled into the Dillon's parking lot last night at 6:00 p.m. was how silly I was going to look riding alongside these spandex-fitted, double-water-bottle-packing, Oakley-wearing, feather-light-bike-riding sporty chaps. Imagine Shrek riding in the Tour de France, except give him a pair of aviator sunglasses and a pussyfoot mountain bike.
As the group makes its introductions, I wonder whether my cell phone will incur roaming charges when I call my girlfriend from some forsaken cornfield and beg her to rescue my sorry ass. I imagine myself falling away from the pack into a deep, lonely nothingness and shacking up for the night with some homely Holsteins.
But duty calls, and so I fall in line as the 20-person flash mob snakes its way out of the parking lot. A deafening firecracker pop disrupts the peace and we glance back to find club president Randy Breenen scowling over a flat tire. "Probably running over-pressure ... he needs every advantage he can get," jests a spandex-splattered compadre.
The pack cruises ahead as Randy mends to his broken vehicle. Somewhere inside of me I'm glad that I won't be the last one to the midway rest-stop.
As the group rolls out onto Barker St., I begin to meet my riding mates. To my right is Bob Oderkirk, who I deem "bearded lightning" on account of his beaucoup face fuzz and bright yellow spandex. Later I will meet Jim the custodian, Alice the physics teacher, Heather the nurse and Kimberly the geology major. All of these people have calves the size of Delaware.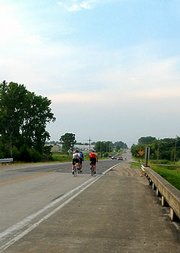 I begin to assimilate to group-riding etiquette -- yelling "car back" for oncoming vehicles and pointing to potholes and other debris. I'm not so sure if I should participate in the latter, however, as it would more than likely cause me to swerve into an oncoming Jeep.
My first blunder happens about ten minutes into the ride as I fumble my water bottle and send it tumbling to the pavement. Thankful to have not derailed any of my fellow riders, I park and make a quick pick-up. For the next mile, on this quiet city-limits highway, I will re-enact the role of Herbie in "The Love Bug," using my willpower and strategic cunning to catch up to my mechanically superior peers.
As we cross K-10 and pass Twin Oaks mini-golf, the first signs of fatigue are setting in. Breath is shorter; legs are complaining; back sweat is showering the pavement. The horses can tell. Four of them chuckle at me as I struggle up a hill. Shove it Seabiscuit -- I'm a writer not a cyclist.
Suddenly, like Anakin Skywalker at his first day of Jedi camp, I realize the point of the all the fancypants equipment surrounding me. The extra-light bikes, the padded-butt shorts, the buckled-down cleats -- now I get it. Except for all the neon -- that I'll never get.
As we approach our first rest stop, I decide to make a move. I shout out the obligatory "on your left" and gun for the lead pack 30 meters ahead. "He's attacking the peloton," shouts one smarty-pants rider as I huff my way forward. Attacking? Hardly. If by "attacking" you mean "feebly prodding."
The pack reaches the rest stop before I can embarrass them. I take a couple draws off my water bottle, from what's not splayed out across highway 1057 as a result of my aforementioned incident. There's a llama farm to our left. A llama farm.
The ride resumes and the pleasure of country scenery begins to overtake the fatigue. Hay bales speckle the horizon and cows graze gently. The only thing that sucks is the roadkill. That stinks something nasty when you're biking in 90-degree heat.
Before I can drop a notebook into oncoming traffic or otherwise embarrass myself the streets become familiar again. The sight of a Sonic signals the imminent return to society, where I presumably will drink a gallon of Powerade and check to see if I have a workers-comp policy.
Like all respectable bike clubs, the LBC ends their rides at a suitable watering hole. Tonight it's dollar pints at Bambino's.
I find the bikers to be a pleasant bunch. Most of them are amazed I was able to keep pace on my suburban-stealth Diamondback Parkway cruiser. I'm amazed at the guy who has the nerve to ask for something low-carb after a 22-mile bike ride.
I pass on the beer but stay for the conversation, which I'm largely left out of since I haven't watched any of the Tour de France. For the first time in my life, though, I wonder whether that Lance guy isn't really doing something awesome.