Sunday, September 5, 2004
The Thunder is gone, but the Chase still has NASCAR fans turning left till their wrists fall off. EA serves up another solid year of surprisingly fun circle racing.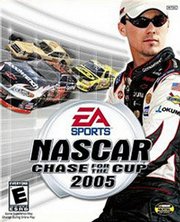 Last year I was fairly captivated by the grudges and allies system that gave the non-NASCAR fan something to get into and build upon. However, that may not have been enough to really draw in the masses. This year, EA upped the ante by adding post-game confrontations and street races outside of the sanctioned track. While you're deep in career mode, you can take your pride to the streets and prove yourself in a more hardcore way. Want to make sure your enemy knows you hate him? Pick a fight after the race. These elements suck you in beyond the career and add a twist a wider audience can pick up on.
The racing is still the same. Drafting or decking fellow drivers is always the quandary, racing to the finish with the aide of your pit crew. Although you can be totally ruthless and build no alliances, it's easier to take more cups if you use a little strategy in who you make a friend.
There are also new race series in the mix including trucks and featherweight stocks, which also do their part in breaking up the tedium of the major races. When online, you can challenge up to three other humans while racing in a full field! Online performance is fairly solid, and will truly add to the longevity of your experience.
Honestly, although the new street mode seems ripped straight out of the wider-scoped Need for Speed Underground, NASCAR 2005 will still most likely appeal to the NASCAR demographic after the first few plays. It's not a fault, necessarily, but rather inevitability.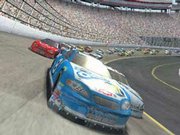 The graphics haven't changed much. Sure you have the many new car models, especially in the street races, but overall the game is really starting to look dated. Blurry textures and some choppy animation don't help its cause. But there is still some credit due to the sheer amount of vehicles packed into the title.
I was still surprised this year how much I enjoyed NASCAR, but it still has a target audience that won't change. There are too many other games out there that do a great job of pure street racing to lure that demographic into a NASCAR arena.
Graphics: B-
Sound: B+
First Play: B+
Last Play: B+
Gameplay: B+
Overall: 88% B+