Tuesday, September 7, 2004
In real life, our childhood fantasies are frequently pushed aside in order to try making a living writing snotty little "stories" about other peoples' jobs instead of pursuing dreams of a cowboy life. Um, for example.
But in real life, horses do exist, and some stalwart men and women ride the range rounding up doggies or something. And real-life robbers from lower-income neighborhoods are busted by real-life cops. There are even real astronauts, believe it or not. And some people actually ignore the sphincter-tightening reality that fire is something you run away from. Fast.
While other kids his age were experiencing XBox-related anxiety and experimenting with whining, Jason Love of Fire Station #2 in Lawrence, spent his misguided youth fighting fires. Real fires. That he didn't set.
While still in high school, a friend asked Jason if he was interested in joining the volunteer fire department of which he was a member. And whether it was dreams of calendar glory or the chance of riding the pumper Backdraft-style with Jennifer Jason Leigh, for some reason Jason said, "Yes."
"I didn't really know I was getting into it until I started running calls and had my first fire, had my first medical call, had my first fatality, and just really knew what I was doing," says Jason, now 25. "Seeing people's reactions, seeing people happy that you're there. It felt good to do something."
So he kept at it. After graduation, Jason hit the books. And the pumps. His training was practical as well as academic, and included emergency medical service (EMS) certification, a requirement to become a firefighter in Lawrence.
Questions about becoming a firefighter: Jim Murray 832-7600
Questions about Explorers: Brandon Holloman 832-7600
After becoming a certified firefighter and emergency medical technician (EMT), Jason worked in Johnson County for awhile before being hired as a member of the Extra Board, the group of firefighters who fill in for sick or injured members of Lawrence's four staffed fire stations while waiting for a full-time position to become available. A year and a half ago, Station No. 2 offered him a job, and in that short time the crew has become like family to him.
"Outside of the station I still hang out with my crew and other people on my shift," says Jason. "That's one of the biggest things that I like about it ... Besides the saving lives and everything else -- that's great too, but I also like the family part of it."
But before family time comes work time. A shift starts a 7 a.m. and lasts until 7 a.m. the next day. After three of these shifts, with a day off between each, come four days off. Work days, barring emergencies, are filled with equipment checks, hydrant and building inspections, station maintenance, PT (physical training), and two hours for lunch.
"We don't sit around and goof off all the time. We work. We work a lot," he said. "Sometimes it might be boring. We might run one or two calls that day, or sometimes we might not ever go to bed. We might be up all night."
Yeah, but two hours for lunch.
But backbreaking 24-hour days of heavy lifting in 451 or so degrees of heat isn't always the picnic it sounds like. Jason's face darkens a bit as he talks about the worst part of the job.
"Maybe running a call and somebody doesn't make it, and the family's there," Jason says. "Or running an accident with children. Anything to do with children is always upsetting."
But ultimately, the opportunity to help people proves to be enough to keep the fire burning. And the labor of love continues for Jason even after he clocks out. He's still on the roles of various volunteer fire departments around Douglas County, and actively participates, along with the rest of his fellow firefighters, in the Explorers, a program that allows people between the ages of 14 and 21 to learn the basics of fire rescue from the experts themselves.
"That's a good thing too, for the community," says Jason. "I wish they had (Explorers) when I started, because I could have started earlier and figured out that that's what I wanted to do."
But even without that early training, Jason Love found his calling.
"I've done other jobs before," says Jason. "I've done construction, I've done food cooking, I've done labor work, I've done all that before. That's a job to me. That's hard work. What we do is hard work too, but I have fun at this job."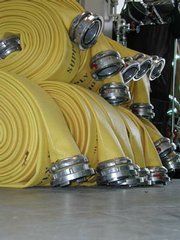 So thank your lucky stars, Lawrence. And next time you hear that siren, pull the hell over and thank St. Florian (the patron saint of firemen, that is) for the men and women who risk their lives and limbs to put out fires.
But what of the fire down below? Is it true that women love a dextrous hose handler?
"I've heard they do," Jason reports. "I haven't had that experience, but I heard that they do."
Sounds like a smokescreen.