Tuesday, September 7, 2004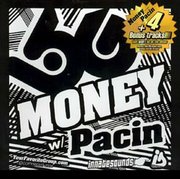 If you haven't yet figured out why so many locals seem hell-bent on convincing you that there IS a hip-hop scene in Lawrence and it KICKS ASS, you may want to give a listen to SoundsGood's new maxi-single for "Money."
The 10-song disc features two songs from the duo's upcoming album - "Money" and "Pacin'," including instrumental and acapella versions - as well as four songs that won't make it to the album. Though it shouldn't be considered the litmus test of SoundsGood's abilities (the full-length is due later this year), it offers a taste of why MC Joe Good and producer Miles Bonny are two of the most accomplished musicians - yes, MUSICIANS - in town.
Not surprisingly, "Money" is the highlight. The track pairs Joe Good with KC-based singer Asa, who makes Pharrell sound like Biz Markie with his velvety three-part harmonies. A sublime, catchy base line supports Good's boast that "you knowin' that it's nice and you want a slice."
"Pacin'" takes a trip on the darker side with jazzy horn samples and hand claps rubbing elbows with a Beastie Boys-esque flute loop. Joe Good lyrically wedgies clueless MCs with lines like "I'm sick of hip-hop / New booties trying to school me off the tip-top." While Joe Good isn't typically one to get caught in the "rappers-rapping-about-rappers" game, he proves himself a feisty bull in the ring.
The disc's four bonus tracks exhibit no drop-off in quality. "Marvin'" brings Asa back for a world-struggle ballad that could very well be an outtake from "Superfly" with its bongo drums and soulful chorus: "Children dying / Mothers cryin' / All they want is a better life / This ain't living / It's genocide / All we want is / A better life."
"Listen" finds Joe Good searching deep inside of himself as he doles out support for mistreated women. Bonny strays from his hip-hop sensibilities as he crafts a murky Moby-like soundscape peppered with a sample of a woman singing: "Use your ears ... he was up to no good."
If there's one thing that this maxi-single hints at, it's that Joe Good isn't holding back anything lyrically. If this kind of intensity carries over to SoundsGood's full-length, expect great things.