Wednesday, September 8, 2004
Sega has done what they wanted to with the $19.99 price point for NFL 2K5. They increased its popularity. Now the rest of the 2K5 sports will see the same price point. In NHL 2K5, twenty bucks still ends up being a steal.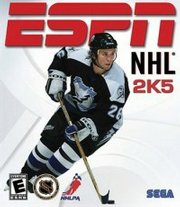 Once you get on the ice, everything feels fairly similar to last year, which is great. The 2K hockey series has never had a competitor when it comes to control and flow. But developer Kush didn't totally leave the gameplay alone. This year, when you pass, you have the option of staying in control of the passer, so you may position yourself better for a shot. It really adds an extra element that has been missing in hockey games. Not only do you not always need to control the puck, but it brings a real life touch to the ice. Add to that full analog control of your stick and you've got more control than ahs ever been possible.
Franchise mode still has a ways to go to be near the depth of its NFL counterpart, and the lack of it may turn some hardcore fans away. Sure, you can scout worldwide and develop your minor teams, but it's obvious that NHL didn't get near the presentation treatment we adored in NFL 2K5 this year. No halftime video playbacks and no unlockables near the amount of "The Crib." Don't get me wrong, the presentation still beats the crap out of most sports games, but ESPN needs to live up to its own standards.
However, the new party games make up for the unpolished presentation. You may think that adding a party mode to a sports game comes out of left field, but the way the mode is implemented here makes sense and is surprisingly addictive. The premises of the mini-games are simple, and most can be looked upon as simple multiplayer drills, but trying to score more goals with varying obstacles in a set amount of time proves to be a pretty intense game between friends.
Online gaming is as flawless as ever. ESPN games have set the standard for stability and depth, and nothing has changed this year. Even some of the party games can be played online.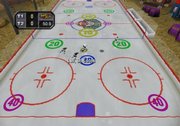 The graphics and sound stay one step ahead of the competitions, with a more realistic look than its closest competitor. The commentary boasts some of the best and most relevant chatter in all sports games and the transitions are superb.
Although sometimes I feel like NHL 2K5 is the red-headed stepchild with respect to presentation, I can't deny that its gameplay is solid and fun. Let's hope next year we can enjoy the full blown experience.
Graphics: A-
Sound: A-
First Play: A
Last Play: A-
Gameplay: A-
Overall 90% A-