Monday, September 13, 2004
New York — What do women want in their closets? Choices -- and that's what they'll have next season.
The looks ranged from geisha to Palm Beach princess to New York City hipster as Behnaz Sarafpour, Lilly Pulitzer and Donna Karan for DKNY presented their spring 2005 collections Sunday.
Freedom to express your own personal style is emerging as a top trend during New York Fashion Week, said Joan Kaner, senior vice president and fashion director for Neiman Marcus.
"It's how you get up in the morning," said Kaner, who noted that the more modest styles will appeal to women, not just young girls.
Karan's DKNY collection, inspired by the streets of Manhattan, included a floral embroidered linen skirt in green -- representing the city's urban gardens -- and a mosaic Jacquard coat shown with a beaded mosaic camisole, fashioned after the tiles in the city's underground subways.
"It's eclectic ... it's what DKNY has always stood for," explained Karan, wearing a purple crocheted shrug and jeans, at Pastis, a restaurant in New York's funky meatpacking district, where her collection was presented.
Karan said she chose the restaurant because "it's where people come to have fun."
Instead of live models, Karan used mannequins, in seated positions at tables and on Pastis' bar, to present her designs, which included a metallic glen-plaid shorts suit, a nude-colored, caviar-beaded silk georgette halter dress and a steel-blue slip dress with horizontal eyelet panels.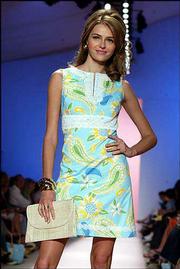 She described the collection as having "true New York character, created for those free spirits who cultivate a style all their own."
Sarafpour also opted for a nontraditional setting, sending models through the aisles of famed Fifth Avenue jeweler Tiffany & Co.
Her collection reflected another land: Japan.
The first outfit was a black wool kimono jacket and white obi (sash) paired with a shiny coin-dot pleated skirt. A successful variation of that look was a wide pink-striped sash tied around the waist of a red trench coat. The result was a very pretty package.
Even a monkey print made its way down the runway at the Lilly Pulitzer show at the Bryant Park tents in midtown Manhattan. Prints are what Lilly Pulitzer is known for, and Pulitzer, now semiretired, still approves each one. (Many in the audience wore Pulitzer ties, pants, sweaters and dresses during the designer's show.)
Classic pink-and-green Pulitzer oversized flowers on sundresses and flowing skirts were in the spring collection, but a more subtle landscape print was used for a spaghetti strap dress with a tiered bottom. The show also included a strapless dress that looked like horizontal rows of grosgrain ribbons.