Tuesday, September 14, 2004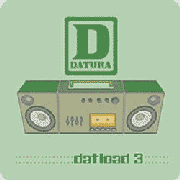 It's hard to be critical of something you get for nothing.
Datload 3 -- the third compilation of local and national hip-hop artists from Lawrence's Datura Records -- is free.
Not 99 cents. Not a shave and a handshake. Not a glass of goat's milk or a raven's eye or some muggle juice.
Free, dogg.
Which means that any pleasure derived from future listening experiences with said compilation should endear you to Datura owner Brent Lippincott for his dedication to putting out these free internet-only compilations every half-a-dozen moons or so.
Besides working behind the scenes for local hip-hop artists Approach, Deep Thinkers and Mac Lethal, Lippincott is a chronic networker. On Datload 3, Lippincott capitalizes on the newfound friendship between Approach and Souls of Mischief, part of the Oakland-based Hieroglyphics crew (the two acts toured Europe earlier this summer). Included are solo tracks from Souls members Tajai, Opio and A-Plus. While the Tajai track is a definite highlight, the other two are instrumentals that sound unfinished without lyrics.
On the whole, Datload 3 explores the darker side of experimental hip-hop, with introspective cuts from I.D. and Nezbeat of Archetype and a pensive collaboration between Beatbroker and Brother of Moses called "Not Your Average." Local producers Mad Awkward and Miles Bonny each contribute reflective, melancholy instrumentals, and Scribble Jam champ Mac Lethal chimes in with "Earth by Earth," a tongue-twisting number that smoothly employs the opening bass line from Jane's Addiction's "Three Days." KC rapper Reach's "Never Been Kissed" employs a narrative technique to tell the story of a childhood friendship and its tragic end.
Datload 3
Download the entire album (105MB)
A few sample individual tracks:
On the lighter side of things, Leonard D. Stroy's "You Got It" is a brilliant Latin-beat track laced with Joe Good's pinpoint lyricism and DJ Sku's nimble scratching. And Caural's "They'll Make a Video Game Out of Killing People Like You" sounds exactly like you might expect, with blips lifted straight from old-school Nintendo games.
Not every track is as enticing as the one's lifted above, but with 21 to choose from you can mix-and-match to your heart's desire. And that's more than you ever expected for doing nothing.
More info
Tracklisting:
Datload III Tracklisting
1. The R.E. (Krisna Best) - Ode To Our Emancipation
produced by The R.E. (Krisna Best)
www.geocities.com/krisnabest
2. Beatbroker ft. Brother of Moses - Not Your Average
produced by Beatbroker
www.daturarecords.com
3. Been ft. I.D. from Archetype - The Waiting Man
produced by Been
www.daturarecords.com
www.archetypesite.com
4. Tajai - Raindance
produced by Domino
www.hieroglyphics.com
5. Opio - Automatic
produced by Opio
www.hieroglyphics.com
6. Clever Reverend - Clash
produced by Kid Called Computer
www.kidcalledcomputer.com
www.itstheguild.com
7. A Plus - Jungle Chiefing
produced by A Plus
www.hieroglyphics.com
8. Mac Lethal - Earth By Earth
produced by Kid Called Computer
www.lethalville.com
www.kidcalledcomputer.com
9. Equalibrum - Spanish Nights
produced by Equalibrum
www.soundclick.com/equalibrum
10. Leonard D. Stroy ft. Joe Good & DJ Sku - You Got It
produced by Leonard D. Stroy
www.daturarecords.com
www.joegood.com
www.yourfavoritegroup.com
11. Caural - They'll Make A Video Game Out Of Killing People Like You
produced by Caural
12. Sound Defects - Tom Collins
produced by Sound Defects
www.thirdearthmusic.com
13. Johnny Quest - Justice
produced by Johnny Quest
www.daturarecords.com
www.johnny23.com
14. Al Japro - Seasoned By
produced by Miles Bonny
www.aljapro.com
15. Miles Bonny - State Of Being
produced by Miles Bonny
www.innatesounds.com
www.yourfavoritegroup.com
16. Mayday - Quicksand
produced by Plex
www.guerillaARC.com
www.algocentral.com
17. Paramount ft. Jak Progresso - Daily Basis
produced by The Don Ruckus
Paramount and Jak Progresso appear courtesy of Johnny23 Records
18. Mad Awkward - Abraxas
produced by Mad Awkward
www.madawkward.com
19. Reach - Never Been Kissed
produced by Papa Calv
www.soundclick.com/brown
20. Nezbeat of Archetype - I'd Like To Believe You
produced by Nezbeat
www.archetypesite.com
21. Stik Figga - The Long Walk (demo)
produced by Decap