Wednesday, September 22, 2004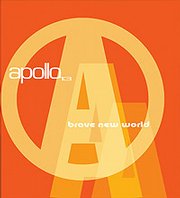 Variety is the name of the game for Lawrence's Apollo 13, a four-person group composed of former The Band That Saved the World members Shannon Savoie (vocals, guitar), Mike MacFarland (guitar, key, sampling/beats) and Will Dinkel (bass) as well as Yards drummer Danny Rojas.
Drum programming and spy-movie sound effects figure prominently into Apollo 13's diverse attack, which runs the gamut from alt-acoustic pop to alternative rock to funk and reggae/rocksteady. Excellent production values and smooth harmonies pimp out X-Box-friendly soundtracks that mix live instrumentation with piped-in samples.
The band's willingness to experiment is commendable but also accounts for a somewhat blurred vision. "Weapons of Mass Destruction" recalls The Propellerheads with its James Bond-style surf guitar, big-beat drums and samples from the Apollo 13 flight, while "Who'z Worried" is a cluttered affair of funky drum breaks, gaudy wah guitars and slap-bass funk. "I Spy" could be a Lenny Kravitz outtake with its uber-distorted guitars and radio-ready chorus.
Album Mp3s

Brave New World
While all of the above songs are well-executed, the band seems much more at home when it strips away the gloss and uses more natural instrumentation. "Lusitania" is one such song fingerpicked nylon-string guitar, jazzy brushed drums and smooth upright bass create a dreamy lullaby that uses the image of a sinking ship as a metaphor for personal struggles. "So Far, So Near" is another example with its Guster-meets-O.A.R. alterna-folk, and "Come to B." is a smooth rocksteady track that should please the Sublime contingent.
Clearly, Apollo 13 has the goods to take the listener on a smooth flight. But like its star-crossed namesake, the band needs to make sure it's in control of its technology if it doesn't want to get stranded in space.