Wednesday, September 22, 2004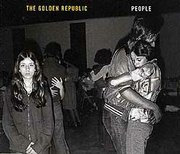 Kansas City's The Golden Republic (formerly The People) hit the jackpot last year when the band signed with Astralwerks, a well-financed and also well-respected label out of NYC that's also home to Badly Drawn Boy, The Chemical Brothers and Air among others.
With its hip-yet-accessible roster, Astralwerks is the perfect vehicle to take The GR's Bowie-meets-Nada Surf glam pop to the next level. Tours with Nada Surf and Idlewild have sent the boys well on their way, and as an extra bonus, the band will supporting and backing up Sondre "The Velvet Viking" Lerche on an upcoming 34-date tour. As if that weren_t enough, the band enlisted hotshot engineer Peter Katis (Interpol) to produce its debut record.
Needless to say, expectations are pretty high for this local foursome. Fortunately, the band's Astralwerks debut "People" doesn't provide any needles for our balloons. The EP's four short tracks are all winners, stacked with shameless ooh-and-aah harmonies, fine detailing on the percussion and keyboard tip and enough infectious guitar riffs to fill up a full-length.
The second track, "Great Communication," is the standout. A pulsing disco beat sets the stage for some ridiculously catchy interweaving guitar melodies and lead singer Ben Grimes' desperate pleas to "put your body next to me."
"Make It" could survive on its signature into/outro bass line alone, but some falsetto backing vocals and chunky guitar riffs seal the deal on the EP's strongest pure melody. "You Almost Had It" takes a darker and more adventurous turn that hints at Shudder to Think tempered with the pop sensibilities of Blur. "Rows of People" closes the album on an acoustic note, and though it doesn't hold up the other three tracks, the mellow sentiment is a fitting way to wind down after the all-in catchiness of the first three tracks.
It's no secret why Nada Surf was taken by The Golden Republic's sound -- the bands sound quite similar in a number of ways. Though that could work against The GR, it's more likely to work for them. Grimes has enough panache to carry the band on its own two feet, and he's still finding his footing as a songwriter. With the pieces steadily falling into place, expect The Golden Republic's full-length to live up to the bands lofty moniker.