Wednesday, September 22, 2004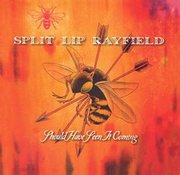 After seeing Split Lip Rayfield live, it's hard to imagine that a CD could be anything BUT a disappointment. The Kansas pickin' foursome is revered for its bring-down-the-house performances at Walnut Valley Festival and local clubs from Lawrence to KC to Wichita. With the most basic of weapons - guitar, mandolin, banjo and a one-string gas-tank bass known as the "stitchgiver" - Split Lip creates more pure rock and roll volume than most bands who claim as much.
Past Split Lip albums have been hit and miss, however. There were plenty of memorable tunes - "3.2 Flu" and "John" for example - but the recordings sometimes felt cluttered and awkward at translating the live quality of the one-string bass.
On "Should Have Seen It Coming," Split Lip seems to have hit their stride in the studio. Rather than focus on the frenzied energy of their live show, the disc is by and large a laid-back affair. That's not to say the band doesn't rip. They just rip in a mature, we-could-do-this-in-our-sleep kind of way.
Album Mp3s

Should Have Seen It Coming
More Split Lip Rayfield mp3s, audio interviews with the band, and video of the boys shootin' guns and stuff
The most notable improvement is the three and four-part harmonies, which the band employs on nearly every song to great effect. Smartly, the arrangements leave plenty of room for these vocals to shine.
For the hometown fans, "Redneck Tailgate Dream" offers a hilarious portrait of the good-old-boys (that is, kids) who park their trucks on Mass. St. every Friday night: "Coors Light is pouring down my throat / Last week I puked in my cousin's boat ... If ya'll like Batman we'll fight you now goddamnit / Where are my Skoal bandits?"
While Split Lip's sense of humor is a given, the album also offers some of the band's most somber efforts. "Promise Not to Tell" delves into Appalachia with an evocative banjo line and haunting minor chords. "Don't Believe That You're Someone" offers the uplifting message, "Don't believe that your someone / "Cause I never think about you."
Where early Split Lip albums had more of a punk rock appeal, "Should Have Seen It Coming" adheres to a more traditional country / bluegrass approach, particularly on songs like "Union Man" and "Hundred Dollar Bill." Co-lead-vocalist Kirk Rundstrom still sounds like a Deliverance extra gone wrong, but songs like "Honestly" ("Honestly I lied, and honestly I didn't try to love you") could have come straight from the Roy Acuff songbook.
Upcoming shows
Split Lip Rayfield
While "Should Have Seen It Coming" is more than good enough to make an impression on newcomers, the band's live show is still a must to understand what Split Lip is all about. Either way, it's good to see the band's records doing justice to its abilities.