Friday, September 24, 2004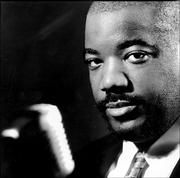 Early in his career, Newsweek christened Kevin Mahogany "the standout jazz vocalist of his generation."
That's the kind of all-encompassing statement that can raise expectations for a new performer to a level he may not be able to meet.
"In honesty, it doesn't put any pressure on me now, because we know that those things are constantly and consistently changing," Mahogany says.
"Just as a generation changes to the next one, you're just as easily forgotten as the last one was. The object is to try and be -- for lack of a better word -- consistent. Consistent means to challenge yourself, continuing to move forward and doing things."
So far that strategy of non-stop evolution has worked for the burly baritone.
Mahogany's seven albums have ranged from the Charles Mingus tribute "Pussy Cat Dues" to his latest, "Pride & Joy," which puts a jazz spin on classic Motown tunes. He enjoyed success on the big screen in Robert Altman's "Kansas City," portraying fellow Kansas City, Mo., native Big Joe Turner. ("I probably got a lot more attention from that in Europe than from the Americans," he says.)
Past Event
Friday, September 24, 2004, 7:30 p.m.
Lawrence Arts Center, 940 New Hampshire St., Lawrence
All ages
In addition to his international touring and teaching duties, Mahogany has even found time to write a one-act play about a jazz singer.
"Most artists have more than one outlet. Writing is mine," he says. "I found my 'other' art."
Mahogany's latest endeavor involves kicking off the first-ever Jazz at the Arts Center series. The monthly program will bring national acts to the Lawrence Arts Center, 940 N.H., through April of next year.
Co-organizer Dan Gailey thought it was essential to jump-start the event with a performer who had ties to the area.
"Kevin was one of the first musicians that I met in 1990," says Gailey, director of jazz studies at Kansas University. "It was on a bad gig where we were getting paid $50 each at a bad wedding reception. I remember then thinking, 'Holy cow, what is this guy doing singing casuals? He's got this phenomenal instrument for voice.'"
At the arts center, the Kevin Mahogany Trio will deliver a tribute to the late balladeer Johnny Hartman, best known for standards such as "Bidin' My Time" and "I Just Dropped by to Say Hello."
The trio includes Mahogany's fellow educators from the University of Miami, bassist Chuck Bergeron and pianist Phil Strange (who just earned his doctorate and can now be called Dr. Strange).
This first Lawrence performance in several years comes on the heels of one of Mahogany's most memorable excursions. He spent the latter half of August in Johannesburg, South Africa.
"It was unique," he says. "I was working with a big band over there from one of the music schools, so that made it a little different. It was challenging, musically, because the students aren't as musically sophisticated as the ones I'm working with here."
While in Africa, the singer took time to tour Soweto, the former ghetto for Johannesburg's impoverished black population that became infamous during apartheid.
"It was emotional and exciting," he says of the experience. "I'm hoping to go back next year. Even if I don't go back for the (jazz) festival, I want to try and do things for the university and some of the school kids that I met."
Baker baritone
As opposed to his recent globetrotting, Mahogany first tooled his singing career by staying close to home.
He went to Baker University in the late 1970s on a football scholarship. During his time as a defensive tackle and offensive guard, he began to draw comparisons between the gridiron and the concert stage.
"There are a lot of similarities," he says. "Dealing with a group mentality and learning to work with a team -- that's definitely true in football AND music."
The choice of one profession over the other seems obvious in retrospect to the 46-year-old, especially in regards to career longevity.
"I'd be (out of the game by now), but I'd also probably be a millionaire by now," he says, laughing. "I loved playing football very much. I wish I could have played on a larger level, but that just wasn't meant to be."
The vocalist claims he learned quite a bit about making music during his Baker stint, which culminated in a Bachelor of Fine Arts.
"It prepared me well," he says. "In music there are a lot of things that they don't teach you that you just have to learn by being out there. Unlike if you're doing medical or something, they teach you a lot more in that respect. They don't teach you how to deal with a patient, per se. But it's the same thing with this. They don't teach you how to deal with an audience. There are a lot of variables that you can't get by way of education."
Challenging the purists
Mahogany is one of a handful of male performers in jazz who makes a living wholly on his voice. Do people in the jazz world assume a singer is less of a musician than someone who plays an instrument?
"Some people, sometimes. It doesn't mean they're right," he says.
"You counter by doing the same work that they do. You know your material. It all entails working the same way that they've worked hard on their instrument."
Another aspect that potentially creates some resistance from the jazz community is the fact Mahogany has proven himself open to exploring styles outside the genre.
"Purists would probably not like what I do -- only because it's not pure jazz in their opinion," he says. "In my opinion there is no such thing as PURE jazz. The only constant in jazz is change. It's always been changing and moving forward. All you have to do is look at anyone we consider a great jazz artist. They never sat on their laurels or their big standard tune. They were always moving forward, taking chances and trying something different."
Fortunately, Mahogany doesn't solely rely on "jazz heads" for his fan base. Whether he is reinterpreting Mingus' "Tonight at Noon" or belting out Smokey Robinson's "Tears of a Clown," Mahogany is all about one voice. That voice seems capable of wrapping itself around any style, for any audience.
"I don't think people who come out to see me really care what I'm singing," he says. "They just like the WAY I sing."