Sunday, September 26, 2004
Sooner or later, all conversations about theater for young people come back to audience.
After all, that's what really distinguishes children's theater from regular theater, where adults can be so steeped in etiquette that they become, well, how to put this -- pretty boring.
Veterans of Kansas University Theatre for Young People will vouch there's no such danger when performing for a room full of kids.
"It's just one of those things that you have to enjoy about children's theater," says KU senior Erika Crane, who plays the leading role in the upcoming "Still Life with Iris." "They are just so wrapped up in the story and the characters, and you can just feel their excitement much more than you can with an adult audience."
A common belief that reaching youth through theater is paramount has kept KU Theatre for Young People in character for half a century. TYP celebrates its 50th anniversary this weekend with a reunion, guest speakers and performances of "Still Life with Iris" and "Amber Waves."
Reflecting on the history of TYP has been great fun for Jed Davis, a leading author of children's theater books and director of TYP from 1960 to 1986. He can't help but chuckle as he recalls a short list of "controversial" plays staged during his tenure.
Friday 10.01
8pm :: Amber Waves
Saturday 10.02
2:30pm :: Still Life With Iris
"There was a production that we did way back in the 1960s of 'Snow White and the Seven Dwarfs,' and some people objected to the fact that here was this young girl living with these seven old men," he says.
"We remember those things, and we realize whatever show you put out is going to have some ideas in it, and ideas are potentially controversial," he continues. "That doesn't stop you from doing them, and it certainly never stopped us."
Origins
Davis took the reins of what was then called University Children's Theatre from Bea Brady Harvey, the former speech and drama teacher at Lawrence High School.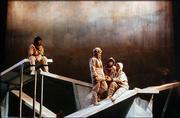 She had become director after the departure of Sally Six Hersh, who, as a KU senior, had staged one of the first two children's theater performance in university history. She directed "Huckleberry Finn" with actors ages 7 to 17 to celebrate Lawrence's Centennial. Fellow senior Mark Gilman had directed the University Players, a student group, in a production of "Rumpelstiltskin" earlier that year.
In 1955, Hersh and Nathaniel Eek, then director of KU's Experimental Theatre, submitted a formal proposal to Allen Crafton, speech and drama department chairman, to introduce children's theater and creative drama into the speech and drama degree program.
That same year, "Land of the Dragon" became the first department-sponsored "inaugural" children's theater production at KU. Hersh directed and designed the show as her master's project and, after receiving her degree, began teaching children's theater and creative drama courses.
By the time Hersh left KU, the children's theater program was staging two annual productions and touring to Wichita and Topeka.
Mindie Paget talks with Jed Davis, former director of the KU Theatre for Young People, 09.26.04
Paget talks with Jeanne Klein, current director of KU Theatre for Young People
Hitting the road
Davis expanded the program with tours to Wyandotte High School and the Kansas City Music Hall.
"The next step, in 1967, was to semi-professionalize the spring children's theater tour," Davis says. "We would pay the actors, and we would go out for a certain length of time. That's when we began getting sponsorships all over the state and several different states."
The troupe even traveled to Los Angeles with a production of "Jim Thorpe -- All-American," performed by a cast comprised mostly of Haskell Institute students.
A couple of factors put an end to such extensive touring. The Kansas Arts Commission stopped partially subsidizing the program as their funding decreased. In addition, the cost of a university education increased, and students took jobs to cover the expense, leaving little and then no time for touring.
A remnant of that era peeks out of a display case in the Murphy Hall lobby: an old wooden sign flanked by cartoonish thespians that says "KU-TYP."
"I remember making that sign, you bet, in the scene shop," Davis says. "It was attached to the top of a bulletin board on which we posted photos of the show and programs and fliers. We took it with us everywhere on tour."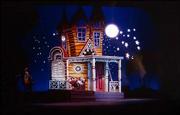 Expanding a legacy
In the 1980s, a graduate student named Jeanne Klein came to KU to study with Davis, whose philosophies she admired.
"He was one of the few professors at the time who believed that the best way to improve the field is to actually talk with child audience members and find out what they are thinking," says Klein, who has conducted studies that explore the visual and verbal meanings children make of theater performances.
When Davis left in 1986, Klein became director of Theatre for Young People. It's a post she still holds, and holds dear.
"My goal has always been to maintain what Jed Davis built and to continue his philosophy of doing new plays, original plays, as well as dramatic adaptations that are quality, meaningful productions," she says.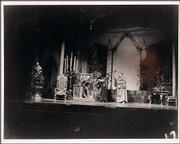 In addition to two annual productions for grades 1-3 and 4-6 on the Crafton-Preyer Theatre stage, post-performance drama workshops are now offered in area schools in lieu of touring shows, and area elementary school students may enroll in after-school drama classes in conjunction with Klein's Children and Drama class.
1954 -- The University Players perform "Rumpelstiltskin," directed by Mark Gilman (senior) in Studio Theatre, Green Hall in March. Sally Six (senior) directs "Huckleberry Finn" with actors ages 7 to 17 to celebrate the City of Lawrence Centennial in July.
1955 -- "Land of the Dragon" is the first, completely department-sponsored, "inaugural" production of children's theater at KU, directed and designed by Sally Six for her master's project.
1956-57 -- Sally Six teaches first children's theater course and continues teaching creative dramatics course with fourth-grade students. First touring show, "Peter Rabbit," directed by Six with teen cast, performs at Children's Theatre Conference Region 6 conference in Wichita.
1957-58 -- Murphy Hall dedicated. "The Tailor of Gloucester," written by Bea Brady Harvey (new instructor), directed by Six (now director of children's theater) produced in new Experimental Theatre with swivel seats for 80-100 people.
1958-60 -- Bea Brady Harvey, former speech/ drama teacher at Lawrence High School, becomes new director of children's theater when Six leaves for further graduate study. Tours continue to Wichita and then Topeka.
1960-1986 -- Jed H. Davis becomes Director of University Children's Theatre and lighting designer. Children's productions move to main stage in Crafton-Preyer, where "Greensleeves' Magic," a full-scale production, plays to 14,600 total audience members. About 50 percent of Lawrence elementary students attend (through 1966), and Douglas County schools are invited, with complimentary tickets to teachers and low-income students.
1960-1985 -- Touring shows perform annually at Wyandotte High School for all Kansas City, Kan., elementary students through the Kansas City, Kan., PTA Council.
1962-1976 -- Touring shows perform annually at Music Hall for Community Children's Theatre of Kansas City, Mo.
1960-1969 -- "Family Night" held on Friday evenings.
1964 -- "Beauty and the Beast" plays to national Children's Theatre Conference convention in Lawrence, with local arrangements made by Sally Six Hersh.
1964 -- "Peter Pan," part of the University Theatre series, plays to 4,400 young people at KU.
1965 -- "Johnny Moonbeam and the Silver Arrow," co-produced with Haskell Institute, tours to London, May 1964, for international planning conference which becomes ASSITEJ (the international network of theater for children and young people).
1966 -- "Tom Thumb" celebrates KU's Centennial
1966-2000 -- Per formal agreement with the Lawrence school district, KU Theatre for Young People becomes an annual school field trip for all Lawrence students in grades 1-6.
1967-1989 -- KU Theatre for Young People becomes official title of program as a touring company of paid actors each spring semester.
1968 -- "A Little Princess" (original opera) marks the first time KU-TYP designates the name for its fall show
1969 -- "The Snow Queen" marks the first County Day set aside for rural schools.
1970 -- "Pinocchio," a participation play by Brian Way, produced during summer.
1975 -- "The Mirrorman," another participation play by Way, produced as part of a summer course.
1977 -- Per agreement with Lawrence school district, KU-TYP produces fall show for grades 4-6 and spring show for grades 1-3, with script examination copies provided in advance. Teacher study guides are offered, and teacher evaluation questionnaires gather perceptions of each production.
1978 -- KU becomes a Winifred Ward School for its graduate program in children's drama/theater.
1981-1986 -- KU-TYP is included on the Kansas Arts Commission Touring Program roster, allowing sponsors to apply for 50 percent grants.
1987-present -- Jeanne Klein becomes director of Theatre for Young People. Young audience reception studies begin with Lawrence elementary schools.
1988-present -- After-School Drama Classes for grades 1-3 and 4-6 are offered each semester in conjunction with a Children and Drama course. Children and their families are invited to dress rehearsals for talk-backs and stage explorations.
1989-present -- When KU-TYP tours end, free post-performance Drama Workshops are offered to local classrooms by teacher invitation, led by director and cast of each semester's production. Teachers and parents are invited to preview final run-throughs of productions.
1989 -- Ph.D. emphasis in children's theater named the top in the nation by the Association for Communication Administration.
1996 -- Lawrence teachers and librarians serve on play-reading committees to advise play selections.
1998 -- "Little Monster" tours 18 Lawrence elementary schools when Crafton-Preyer stage roof undergoes repairs.
1999 -- KU-TYP becomes formally recognized Lawrence Business/Education Partner (since 1993).
2000 -- KU-TYP becomes optional field trip for Lawrence schools when University Theatre can no longer afford to partially subsidize
2004 -- KU-TYP celebrates its 50th anniversary with a reunion, guest speakers and performances of "Still Life with Iris" and "Amber Waves."
Teachers like Jan Dicker have devoured just about everything TYP has offered during her 30 years as an educator.
"We've taken children in parents' cars and paid for buses and done everything that we possibly can," says Dicker, a fourth-grade teacher at Sunset Hill School. "Kids need to know about all kinds of art, not just what they experience in the art room."
As the education director at Topeka Civic Theatre & Academy, Jennifer Fletcher, who did graduate work under Klein at KU, sees every day the impact theater can have on youth.
"It's such a rewarding experience to see how much they can learn through drama and how much their lives are enriched," she says of child actors and audiences.
Kids rule
One ongoing challenge in children's theater is getting theater students to take it seriously.
KU alumnus James Still, who didn't study children's theater at KU but has gone on to write plays and television programming for kids, has been in the business long enough to know that many fresh-out-of-school theater majors get their first jobs in children's theater.
"A lot of kids don't want to be in a TYP play because sometimes there's this idea that it's not REAL theater or it's not as complicated or sophisticated," he says. "I think if you talk to these kids, for example, who are doing 'Amber Waves' -- they have their hands full. They are working very hard."
Klein says she arrived at KU in the midst of an ongoing struggle to legitimize the field of children's theater. One problem, she says, is that too many companies are doing dumbed-down shows for young audiences that are more intelligent than they're given credit for.
"This country has many prejudices against children," she says. "Adults seem to consider children to be inferior, and we marginalize children in a lot of ways. There's another side of that coin which says, 'No. Children are complete human beings. They ought to be respected for who they already are.'"
And when you understand that, Klein says, and really put something out there that kids can respond to -- the rewards are instantaneous.
"They will tell you immediately, in the moment, what they're feeling," Klein says. "It's the full range of emotions. Children haven't learned those adult rules."
Thank goodness.