Tuesday, September 28, 2004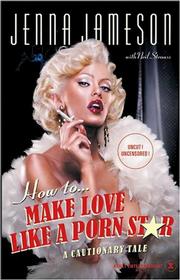 Jenna Jameson's new book "How to Make Love Like a Porn Star: A Cautionary Tale" is an addictive read. That is, it's addictive in a vein similar to reading "People" magazine, or eating Whitman's chocolates -- we don't necessarily plan on reading the whole magazine, or eating the whole box, but before we know it we've snarfed down every last buttercream, and are feeling slightly sick because of it.
On the one hand, Jameson's absurd lifestyle is so unlike 99.9 percent of the world that we can't help but be fascinated. Her encounters with celebrities and her declaration that stripping made her obscene amounts of money make the pornography world seem glamorous and sexy.
On the other, if succeeding as a porn star means selling a certain image, Jameson's book may be disappointing to her fans. Her descriptions of being strung out on meth and weighing 80 pounds are decidedly unsexy. Jameson tells of rat-infested movie sets, bleeding nipples, and abusive relationships, making it clear that not everyone can survive in the porn industry.
And in fact, most don't. Many girls get into porn through shady modeling contracts or sleazy boyfriends. They hope that pornography will be a gateway to mainstream movies and magazines. Sadly, Jameson points out, one nude spread can haunt a woman for the rest of her life.
Conversely, Jameson got in to the industry by her own volition, never wanting more than to "become the biggest star the industry has seen." Born Jenna Massoli, Jameson worked her way up from stripping at age 16 to control her own line of adult videos. Despite only having bit roles on E! television, and in Howard Stern's movie "Private Parts," Jameson has managed to make herself a household name.
So what separates Jameson from the rest of the fake-boobed, bottle-blondes in the business? She would tell you that her work ethic and love of money were the main factors in her success. Jameson also insists that her acting has been an important reason why her movies are a hit (who watches porn for the story lines?), and people I know who have seen Jameson onscreen (not me, of course) contend that she has a certain unexplainable quality.
This may be because Jameson is truly a sex fiend through and through. She claims to have had her first orgasm at age five. Unfortunately, like many others in the sex industry, Jameson's career choice may have resulted from some unwanted sexual encounters. Jameson says she was raped by her boyfriend's uncle at age 16, and by a pack of highschoolers before that. Jenna blames her bad relationship choices on these events.
Her stories of sexual exploits are jaw dropping. She pontificates on the sexual desires of everyone from Tommy Lee (too clingy) to Marilyn Manson (strangely sweet) to Nicholas Cage (emotionally detached). These anecdotes are the backbone of the book, and are probably what most readers will be attracted to.
Jameson's publishers did a wonderful job of laying the book out in an innovative way. Although somewhat choppy, the blend of graphic illustrations, movie scripts, diary entries and verbatim discussions with family members make for a sort of surreal story.
This hodge-podge technique wouldn't work so well with a different subject matter, but Jameson's lifestyle lends itself well to graphic art, and her numerous top ten lists give wonderful insight into the porn industry. One example is when Jameson details the top ten things to remember when giving blow jobs, another is when she goes into gory detail about what sorts of injuries a stripper might incur on the job.
The prose, written with help from New York Times contributor Neil Strauss, elicits feelings of naughtiness and squeamishness, but never pity. Jameson makes it clear that she is a strong, independent woman who made the pornography industry work for her. The result is a fascinating oddly empowering look at the world of adult entertainment.
And of course, there are plenty of pictures.