Thursday, September 30, 2004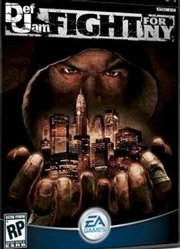 Def Jam: Fight for NY marks the first time EA has released an "M" rated game. The ESRB found the game a little too violent for the "T" rating EA applied for. Still, the franchise returns to provide one engaging ride through the hip-hop underground.
More brawler than fighter new fighting engine, DJFNY encourages you to learn multiple fighting disciplines (street fighting, kickboxing, martial arts, wrestling, and submission), interact with environments, and use several weapons to make a name for yourself. Those familiar with Def Jam: Vendetta will be pleased to know the amount of fights and venues have increased dramatically and the gameplay is even deeper. The celebrity roster includes Busta Rhymes, Carmen Electra, Fat Joe, Flava Flav, Freeway, Ghostface, Ice T, Joe Budden, Kimora Lee Simmons, Lil' Kim, Ludacris, Method Man, Redman, Sean Paul, Slick Rick, Snoop Dogg, Xzibit, to name a few.
You start off as a no-name guy who gets caught up in a sticky situation. In order to prove yourself to your posse, you have to fight your way through a few locales. Your character's look is fully customizable, with more focus on wardrobe than face structure, even though there is some of that element there. After you create someone who looks like you, a deep and engaging story mode awaits. No, I am not kidding. The story mode is not half-bad.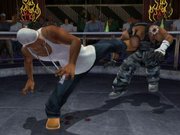 What's immediately surprising is how well the fighting styles intertwine once you upgrade your character's abilities. (Henry Rollins is your trainer.) Each of the fighting styles can be used together to create a fun hybrid. You also have "Blazin" moves which are elaborate finishing moves used when that particular meter is full. The attacks come off the controller well, and your character's responsiveness is tight. With the plethora of brawlers out there, Def Jam tends to make the genre feel fresh. As you earn cash from fights, you can continually upgrade your hair, clothes and special moves.
Throwing and grappling are a big part of DJFNY and are also where its minor problems arise. No matter how good you are at reversing a grapple, the computer, after the first few venues, is almost flawless in getting out of your grapples unless they are near death. Inversely, it's near impossible for you to get out of many of their grapple attacks. Still, throwing your opponent into walls, pillars, people and vehicles is too much fun.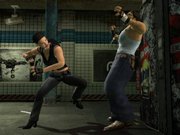 Playing with friends in a free-for-all brawl is another aspect of DJFNY that extends the games longevity. Having a robust single and multiplayer is a must in today's generation and it really delivers.
The graphics are well done. The face models of all the celebrities are constructed well and the arenas all have a nice particular flavor to them. The animations are also wonderful during fights, but moving around the arena by yourself looks a bit awkward. Some slowdown does occur, but it's nothing of particular note. The soundtrack is plentiful, boasting tracks from almost every character in the game. The coarse language does get excessive, but nothing you wouldn't expect out of a group such as this.
Def Jam: Fight for NY is a surprisingly deeper sequel and proves to be a lot more fun than your average fighter or wrestler. It pleases on superficial levels as well, making it fun for the casual or serious fan.
Graphics: A-
Sound: A
First Play: A-
Last Play: A-
Gameplay: A-
Overall: 91% A-