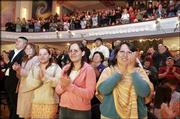 For 13-year-old Dacotah Hasvold, Rick Schroder is more than the former star of "NYPD Blue" -- he's the director of "Black Cloud," a movie that gave Hasvold, a member of the Flandreau Santee Sioux tribe, a reason to smile.
"It's probably like the first film I've ever seen that had a full Native American cast," said Hasvold, who saw the movie with his parents and younger brother, Wyatt.
About 500 people packed the main theater at Liberty Hall on Thursday night for a showing of the movie, which marked the opening of the first Stories-N-Motion Film Festival. The festival, a showcase organized by the film club at Haskell Indian Nations University, continues today and Saturday with feature, documentary and short films.
Schroder, who wrote, directed, produced and stars in the film, was on hand for the screening of the movie, which is about a Navajo boxer fighting to make the U.S. Olympic team. The story is fictional, but Schroder said it was based on real situations of the Navajo people in the Southwest, where the natural beauty inspired him.
"I grew up watching John Wayne movies and fell in love with Monument Valley, with those big beautiful red mountains in northern Arizona and southern Utah," Schroder said. "I knew that's where I wanted to make my first film."
Crowds lined up outside the theater well in advance of the show trying to secure tickets. Shortly before the screening began, Lawrence residents Pam Bauer and Bee Yellowcloud sat outside Liberty Hall lamenting that the show had sold out before they'd gotten tickets.
"Shoot, man; the guys who made this film are from my tribe and I can't even get in," said Yellowcloud, a Navajo. "And I wanted to see Ricky Schroder, the 'Silver Spoons' guy," referring to the TV sit-com Schroder starred in as a child.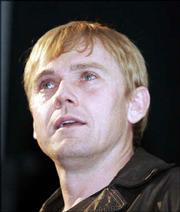 Sara Kison, a Haskell student, said she was excited to see the film festival, which had been a hot topic on the Haskell campus.
"It's something that we're proud of," Kison said. "It's not something we get every day or every year. It's something that's once in a lifetime and I wanted to check it out."
After the film ended, a teary Schroder told the crowd that its approval of the movie made the hardships he endured during its filming worthwhile.
"Hollywood told me that this movie wouldn't get made because it was about a niche group of people and who the hell would go see it," he said.
"They were wrong," came a shout from the crowd.
More like this story on Lawrence.com