Several modern movies have tried to bring the look and feel of a comic book to life. Not just to adapt comic characters into a cinematic setting, but really capture the episodic, exaggerated, colorful texture of an actual ink-and-paper product.
"Dick Tracy" and "American Splendor" are among the more effective of these. But "Sin City" is the first to take this approach with a graphic novel.
The result is a stunning visual feast that presents the intricate, film noir-styled world of artist Frank Miller -- complete with the ultra-violence, nudity and cruelty that distinguishes adult-oriented graphic novels from a newsstand issue of "The Amazing Spider-Man."
In the hands of multitasking filmmaker Robert Rodriguez ("Spy Kids"), "Sin City" is as vibrant and hostile as the fictional metropolis of the same name. It's a sleazy world of gritty detectives, corrupt senators, sinister pedophiles and ninja-trained hookers. Picture Philip Marlowe as the main character in Grand Theft Auto.
Three actors anchor each leg of the story. All of the men put their lives on the line to protect or avenge a woman.
Bruce Willis portrays Hartigan, an honest cop with a heart condition who is on the eve of collecting his pension. Before he retires, he goes on a desperate quest to save an 11-year-old girl from a serial killer.
Meanwhile, the gorilla-bodied and hippo-faced Marv (Mickey Rourke) spends the evening with a generous prostitute (Jaime King), only to awaken to find her murdered and him framed for the crime. This leads to an über-bloody night of revenge.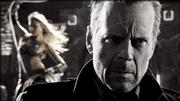 Nearby, Dwight (Clive Owen) -- a mysterious man with a new face -- must help his former flame (Rosario Dawson) and her fellow streetwalkers in Old Town fend off the mob after the gals accidentally dispatch a creep (Benicio Del Toro) who is the key to an uneasy alliance that exists between the police and the rest of the city's criminals.
Like Quentin Tarantino's "Pulp Fiction," "Sin City" connects its primary characters even while they seem to operate within their own story lines. Similarly, the timeline never quite follows the standard linear narrative.
Speaking of Tarantino, he directed a segment of this movie for $1. This was quid pro quo for Rodriguez scoring Tarantino's "Kill Bill Vol. 2" for the same fee.
Movie
Sin City
*** 1/2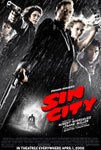 Frank Miller's graphic novel series comes to life with a stunning adaptation that captures the episodic, exaggerated texture of a comic book. Bruce Willis, Clive Owen and Mickey Rourke anchor each leg of "Sin City," which in the hands of filmmaker Robert Rodriguez is as vibrant and hostile as the fictional metropolis of the same name.
The fact that it's impossible to tell which sequence the Oscar winner handled reinforces just how tricky and assured Rodriquez's skills have become.
The Austin, Texas-based director shot the project entirely on a green screen, with no sets or backgrounds. This allowed him to manipulate the images in unique ways. Although "Sin City" primarily runs in black-and-white, many scenes and characters are given a splash of color -- a woman's red lipstick, the blue shade of a Cadillac or the diseased yellow skin of a vindictive crook.
Sometimes blood is depicted in garish crimson, other times it's bright white like the spray pattern from a paintball hit.
What separates this digital-shot film from its visually comparable brethren -- "Sky Captain and the World of Tomorrow," for instance -- is the story and dialogue are clever enough that they don't rely on the imagery.
Miller's words combine the world-weary narration of classic film noir with the pop-culture awareness of post-modern cinema.
So when a deadly warrior takes a sword to one of her deserving victims, Dwight describes it as, "She doesn't quite chop his head off. She makes a Pez dispenser out of him."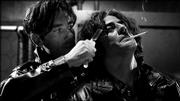 The picture starts off a bit clunky with a prelude involving actors Josh Hartnett and Marley Shelton that Rodriguez initially shot as a way to convince the anti-Hollywood Miller to allow his work to be adapted. The filmmaker reportedly sent the footage to the author with the edict: "If you like this, this will be the opening to the movie. If not, you'll have your own short film to show your friends."
Once Rourke (in his best-ever role) shows up, however, the flick kicks into a relentlessly high gear from which it never downshifts.
Thankfully, Miller agreed to take a leap of faith with the audaciously talented Rodriguez. Now the "Sin City" creator has a long film he can show his friends ... and a spectacular one at that.