Wednesday, April 13, 2005
Spring sunlight filters into the dance studio at the Lawrence Arts Center as lithe athletes in loose workout clothes stretch at bars positioned around the room's perimeter.
Susan Warden, her wavy hair pulled back in a gray-streaked ponytail, bends down and presses the play button on a CD player, initiating a slow series of piano arpeggios.
"All right, here we go," she announces to the seven dancers, who have formed a line at the back of the studio. As the music lilts from tiny speakers, every other dancer steps forward, turns on one foot and then recedes. Alternating dancers repeat the sequence, and the whole company advances toward Warden, who choreographed this work.
"Now really be solid in these steps," she says. "Feel that sense of inevitability we talked about."
Minutes later, when the dance ends, Warden opens the floor to her pupils. "Any observations from inside?" she asks.
Beau Hancock, for one, is a bit too out-of-breath to respond. But a few days later, with the benefit of not having just danced a rigorous solo, he reflects on the state of the 940 Dance Company, a reincarnation of longtime Lawrence fixture the Prairie Wind Dancers.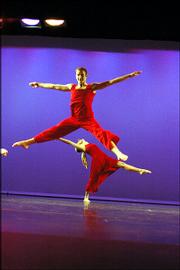 "I've grown within the past year tremendously through Susan's guidance, and also through working with the other dancers so intimately," says Hancock, 23, the only male in the troupe. "They've really been a wonderful community to dance within, and we've quickly become friends and colleagues."
If all goes as planned, that chemistry should be apparent when 940 takes the stage Friday and Saturday for its first Lawrence concert with a new name, all new dancers and a new artistic director in regionally acclaimed choreographer Susan Warden.
Known for her versatility, Warden's contributions to the program of "New Works/New Name" will range from joyful explorations of the formal classicism of J.S. Bach to the unexpected humor inherent in Verdi's opera music to a tongue-in-cheek look at teenage melodrama.
Also on the program will be a new work by arts center ballet instructor Deb Bettinger in response to the December tsunami in Southeast Asia; love duets by 940 Dancers Malinda Crump and Tuesday Faust; and a piece called "The Year of the Rooster" by company member Bridget Bartholome.
Patrons familiar with Warden's work may recognize some of her pieces.
"In any good repertory, you have a broad spectrum of work, and part of what I've been trying to do in this concert is pull together a rep that we will draw on for years go come," she explains. "I'm not doing that much new work on this concert because of that. But in future years, because I have done this groundwork, I'm hoping that I'll be able to do a lot more new work."
Audio clips with Susan Warden, artistic director of the 940 Dance Company
Solid lineage
The 940 Dance Company's roots stretch back 18 years to 1987, when choreographer Candi Baker and her Prairie Wind Dancers became the resident company at the Lawrence Arts Center. Back then, the dancers rehearsed at a studio several blocks from the center's former cramped home at the Carnegie library building
For nearly two decades, Baker built a choreographic legacy marked by wit, poignancy and accessibility. In addition to establishing a loyal local following, Prairie Wind toured the Midwest, sharing movement at concerts and workshops for students of all ages.
In 2002, the troupe moved to the new arts center, complete with two dance studios and a 300-seat theater for performances. Despite those amenities, all six members of Prairie Wind left the company last spring -- all on good terms, all to pursue new opportunities elsewhere.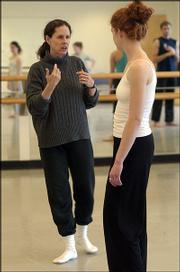 Baker, who, in her late 50s, already had planned to retire within the next few years, decided it was time to pass the torch.
"That last year we did 98 performances," she recalls. "I was tired, and I think they were a little bit, too."
Baker continues as director of the center's extensive dance program, as well as adviser to Warden, especially on administrative details.
"It feels so good to me not to have the pressure of being in the studio every day and of trying to be on top creatively, as well as (keep up with) all the administrative work," Baker says. "Dance is so physically demanding, and I don't have that kind of physical stamina anymore."
'Loving every minute of it'
Incidentally, Baker has long admired her replacement's work. The Susan Warden Dancers were among the first Baker saw when she moved to Lawrence more than 20 years ago.
But after 11 fortuitous years as head of her own company -- which always ran in the black -- Warden burned out and left dance altogether.
She moved to Wisconsin and busied herself being a mother and volunteering for the PTA and Hospice. Her friends wondered what she was thinking, but she was convinced dance would remain part of her past.
Five years later, Warden moved back to Kansas City and almost immediately received invitations to teach. She headed to the gym, "got in shape really fast," and eventually became the modern dance trainer for Prairie Wind. She transitioned to artistic director last summer.
"I didn't expect to dance again, and I never expected to be this involved again," says Warden, 52. "I'm loving every minute of it."
"I'm so glad I took the break because it's all so fresh and new," she continues. "In a sense, I don't have anything more to prove, so I don't have that anxiety. I am just able to do work."
Forging connections
Warden and Baker selected six new paid dancers and an apprentice for the 940 Dance Company (the new name plays off the center's address on New Hampshire Street) at auditions held during the summer. Warden has been pleased with their choices and hopes to keep the company from falling into a pattern of rushing that she says has become endemic to modern dance.
"Choreographers are expected to come in and, two weeks later, produce a work on dancers they've never seen. The name of the game is speed, and I think you lose a lot when you use that as one of your conditions of work," Warden says. "One of my goals is to have this company become a place where investigation goes on, where experimentation goes on, where the dancers discover challenges and find ways to meet them as performers, as technicians -- and that takes time."
It also takes a special kinship, and dancer Beau Hancock feels Warden guiding the company in that direction.
"That's actually something that Susan works with us a lot on is finding that connection within the group, that interpersonal play between company members," Hancock says. As an example, he tells how Warden relays the same message each time the company practices "Tapestry," the first piece on the "New Works" concert.
"Before she starts the music in rehearsal, she always says, 'Now remember, this is about the joy of dancing, and the joy of dancing together," Hancock says. "And that's exciting, you know, to think that this is our opportunity: to dance together."