Wednesday, April 13, 2005
The story behind the name of Scotland's Dogs Die in Hot Cars is shrouded in mystery. The five-piece pop-rock act has spread some crazy tales about its origin -- from the first words on the Scrabble table to a moment of inspiration when the members were inhaling helium balloons -- but the truth behind the band name always has been kept under wraps.
Until now.
"I can't be bothered making up any stories; I've just started telling the truth," bassist Lee Worrall says. "I need to give my dad a bit of credit as well because it was my dad that made it up. He saw it on the back of a car one day. He said, 'Guys, I've got the perfect band name for you. Five words: Dogs Die in Hot Cars. We thought great, that's it. Winner!"
No doubt dad was rather offended then when influential British magazine New Musical Express labeled it "the worst band name in the history of music."
"Probably, yeah, but he never told me," says Worrall, in a phone conversation from Toronto. "He probably cried himself to sleep."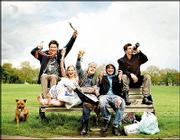 With the puzzle solved regarding the name, the group is much more interested in spending time speaking about its music.
Its debut album, "Please Describe Yourself," is best described as an alternative-pop album reminiscent of '80s bands Talking Heads and XTC. Worrall, however, along with vocalists/guitarists Craig MacIntosh and Gary Smith, keyboardist/vocalist Ruth Quigley and drummer Laurence Davey, are used to such interpretations.
"We're getting compared to bands that are good, so it's better than getting compared to bands who are (expletive)," he says. "The list of bands that we have been compared to is probably nearing 100 now."
Audio clips with Lee Worrall, bassist from Dogs Die in Hot Cars
That's not to say the album is predictable in its sound. "Paul Newman's Eyes" -- a song wishfully thinking of escaping a monotonous life -- begins a cappella before a ska-punk guitar rhythm invades MacIntosh's vocals. Songs such as "Celebrity Sanctum" are catchy despite their inappropriateness: "I love Lucy / I love Lucy Lui / Yes I love her twice as much as you."
Dogs Die in Hot Cars has been on tour now for four weeks, having kicked off in Austin at the South by Southwest Music and Media Conference. Since then, the group of former high school friends has played Detroit and Chicago, sold out New York's Irving Plaza and performed in some "unfamiliar places."
So, would Lawrence fall under this bracket?
Past Event
Wednesday, April 13, 2005, 8 p.m.
Granada, 1020 Mass., Lawrence
All ages / $12.50
"Sometimes they're the best gigs, when it's kind of off the beaten track," he says. "Hopefully everyone in Lawrence will have their dancing shoes on. I'm looking forward to it."
With a busy schedule ahead that takes the ensemble from the East Coast to the West Coast, as well as four shows in Australia and a headlining tour of the U.K., it's hardly surprising that Worrall is thinking of home comforts.
He says, "I'm missing my own bed, my local pub, Irn-Bru."
Irn-Bru is Scotland's other national beverage, a caffeinated soft drink that has long been viewed as a hangover cure. It's something that any self-respecting rock star would happily welcome.
"I haven't seen any Irn-Bru out here," Worrall says disappointedly. "I've been having to find another hangover cure drink, but I haven't found one that works."
He perks up when he's told Brits on Mass. Street stocks it.
"Oh man! I am there, definitely," he says. "Definitely!"
More like this story on Lawrence.com