The members of the 2/3 Field Artillery were treated to quite a scene when they set up barracks in Iraq. Their ongoing residence was a pleasure palace formerly owned by Saddam Hussein's son Uday -- a bomb-riddled, garish ode to hedonism, complete with a swimming pool, putting green and fishing pond.
Four months after President Bush declared "major combat operations" to be over, the men stationed in the palace encountered what they facetiously termed "minor combat." That might include going on raids to hunt down suspected insurgents or narrowly dodging random mortar attacks.
This type of day-to-day existence is captured in "Gunner Palace," a new documentary that opens today at Liberty Hall, 642 Mass.
"The palace itself from a distance looks pretty opulent," director Michael Tucker says. "Although you have to imagine the neighborhood it was in. If you were to be right on the front street you would think, 'Oh my God, I'm in Tijuana.'
"Inside there was the Love Shack, which was this weird pumpkin-shaped 'Austin Powers' building. There was a circular bed in it, which was amusing because the colonel slept in it."
Tucker lived with the unit at various intervals during 2003-04, and he was given unfettered access by the military.
"It wasn't as difficult as people think," Tucker says during a recent phone interview from Berlin. "We were coming right on the heels of the invasion. And in the invasion, they had 600 reporters. As soon as the invasion was over, a lot of the big units packed up and went home. ... At that point they were pretty receptive to wanting their story told."
Unlike recent documentaries such as "Fahrenheit 9/11" and "Control Room" that focus primarily on the war in Iraq, "Gunner Palace" concentrates solely on the soldiers. For the most part it leaves politics out of the equation and lets those doing the fighting tell their side.
"The one thing I really appreciate about this film is when soldiers watch it, they totally get it," Tucker says. "They're like, 'That's exactly the way it is. It's really boring and then something happens.'"
Military officials seem to agree. The project is being embraced by the armed forces as an accurate portrayal of life in Iraq.
"It's always a positive thing for us to know that there are venues for sharing who the Army is and what we do to the public," says David Howey, Fort Leavenworth public affairs officer. "Even though the movie will be seen by the general public, it's also the way for our own soldiers who have not been deployed to get a better understanding for the professionalism and successes of the soldiers who are overseas."
'Under control'
When assembling the movie from hundreds of hours of footage, Tucker and his co-director and wife, Petra Epperlein, came to the realization that it was going to be difficult structuring a cohesive story around an event that some have called a shapeless mess.
Audio interview with Michael Tucker
"Reality is like this disjointed thing," he explains. "When you're in a situation like this you certainly don't ask soldiers, 'Hey, hold on guys for a minute. Wait so I can get the shot of you ramming this gate.' ... Rather than trying to enforce some kind of false narrative on it, there is no narrative."
Instead the film is snapshots of various moments, where U.S. soldiers become everything from "policemen, social workers and politicians to truant officers," according to Tucker's narration in the picture. Sometimes this involves holding up traffic for an hour so that patrols can check out whether a shopping bag near an intersection is an IED (Improvised Explosive Device) to helping get a glue-sniffing Iraqi teen off the street.
"You don't know what's going to happen," he says. "It's completely chaotic. You never really see who's shooting at you -- if they are at all. Most of the attacks are completely random. And you just pray you don't get hit."
Although Tucker shot footage of nearly all the 400 men and women stationed in Hussein's former pleasure den, certain soldiers make a stronger impression than others. Spc. Richmond Shaw passes the hours by honing his freestyle rapping. ("And the tears start flowing whey they called out roll / And you really expect us to keep it all under control? / I mean, what could you tell a man who just saw his two friends die right before his eyes -- except sip on his gin /Trying to drown out his hurt and pain in a sea full of sorrow, living only for the day is the motto we follow.")
Movie
Gunner Palace
** 1/2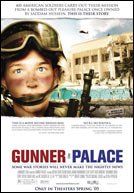 This insider documentary follows the day-to-day existence of the men and women of the 2/3 Field Artillery in Iraq, who set up barracks in a former pleasure palace owned by Uday Hussein. While eye-opening and compelling, the film is nearly as chaotic and shapeless as the situation that the soldiers find themselves in.
"With the freestylers, The New York Times wrote an enormous article -- not about the film, but about them," Tucker says. "They were so proud of that -- that some goodness would come out of their experience."
Ratings war
When Tucker returned to the United States after completing "Gunner Palace," he faced one of his greatest battles. And the enemy was the Motion Picture Association of America.
He presented the film to the ratings board and it came back with an R due to language. Tucker immediately appealed.
"Our argument was entirely based upon context. There were a lot of recent examples to pull from -- the most prominent was 'Saving Private Ryan,' which aired three times (on TV) uncut," he says.
"You can't send 150,000 young Americans off to war and then say, 'We need to bleep out what they're saying.' Those guys can't put on their socks in the morning (without swearing).
Surprisingly, the argument worked and the film earned a PG-13.
Tucker hopes the softer rating will help encourage more people to see and hear the soldiers' side of the story. (Liberty Hall will offer half-price admission to patrons with a military ID.)
"That's what matters most to me," he says. "I feel like they're completely misunderstood. I feel like the war has been so politicized that people don't see it emotionally."