Like most bands entering Farmer's Ball, The Volunteers have one primary objective.
"Hopefully we'll get some fucking phat studio time," says lead singer/guitarist Tyler Jack Anderson, who formed the band just weeks in advance of the annual KJHK-sponsored battle-of-the-bands.
"Otherwise (our first album) is going to be ghetto," he added.
Indeed, free recording time may be the main draw for the local bands that enter the Farmer's Ball. This year, first prize is a day at Black Lodge Studios and a day at Neighborhood Studios - cumulatively, a $1000 value - and second prize is a day at Underground Sound Studios.
A slot at the Farmer's Ball also means a chance to play for new audiences, especially considering many of the acts are relative newcomers.
"We're actually doing what Farmer's Ball set out to do ... give unknown bands the exposure that they deserve," says organizer Casey Boyer, KJHK's live events director.
Past Event
Saturday, April 30, 2005, 9 p.m.
Granada, 1020 Mass., Lawrence
18+ / $5 - $7
"You can probably tell from the lineup you haven't heard from most of these bands yet."
This year, eight acts will seek to join the ranks of recent past winners like Kelpie and The Capsules. Those that fall short can take comfort in the history of equally talented area acts who fell short of the grand prize - Ghosty, Drakkar Sauna, Vibralux, Archetype, Andrew Morgan and Vitreous Humor to name a few.



(Sat. 10 a.m.) Just announced...finalists for the Farmer's Ball are:
Matt Rice
Chemical Ali
Reach
Hi-Dive



Here's a rundown of this year's field.
(order of performance to be determined by draw)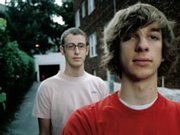 Fromage and Paul Protocol
Genre: "Classical hip-hop"
Year Formed: 2004, Lawrence
Sound: "Two bored white kids with a lot of pirated computer software."
Why they'll win: Because they've "already made the rounds through the birthday party circuit and this is the next logical step."
Online: fromageandpaulprotocol.com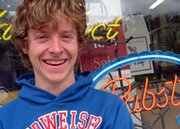 Matt Rice
Genre: Singer/songwriter, folk
Formed: 2002, Kansas City, Mo. (currently in Lawrence)
Influences: Nick Drake, Fred Neil, Devendra Banhart, Neil Young
Why he'll win: An experienced performer and unique voice, Rice figures to charm his way to victory with some understated folk music.
Online: lawrence.com/bands/matt_rice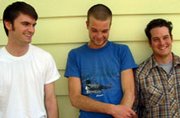 Hi-Dive
Genre: Rock
Formed: 2003, Lawrence
Sound: Rock trio
RIYL: Broken Social Scene, Sonic Youth, American Analog Set
Why they'll win: There's another band in Denver named Hi-Dive and a victory might intimidate them into changing their name.
Online: lawrence.com/bands/hidive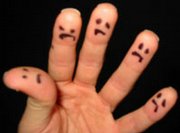 Sad Fingers
Genre: Experimental rock
Formed: 2005, Lawrence
Sound: "Crackpot political ideas set to quick-paced and danceable punk rock."
RIYL: The Fall, Wire, Les Savy Fav
Why they'll win: Experience - members Adam Mitchell and Jacob Baum reached the 2003 Farmer's Ball finals with their previous group (the band represented by the color blue).
Online: lawrence.com/bands/sad_fingers
(order of performance to be determined by draw)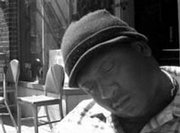 Reach
Genre: Rap
Formed: 1999, Kansas City, Mo.
Sound description: Feel-good, soul & jazz-tinged rap music.
Why he'll win: A true-to-life MC, Reach brings passion to the stage and some sensible rhymes on life's everyday struggles. Online: lawrence.com/bands/reach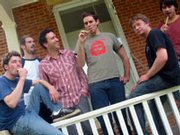 Chemical Ali
Genre: Rock n' Roll
Formed: 2003, Lawrence
Sound: Loud layered guitars and keyboards with melodic vocals.
RIYL: The Stone Roses, Radiohead
Why they'll win: Six band members equals two more than their nearest competitor.
Online: lawrence.com/bands/chemical_ali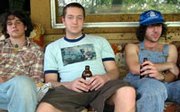 Volunteers
Genre: Alt-country rock or something like that
Formed: 2005, Lawrence KS
Influences: Wilco/Uncle Tupelo, Neil Young and Crazy Horse, Dylan, Paul Simon (some Garfunkel), Tom Petty, Built to Spill, The Jayhawks, Bright Eyes (minus emo whine), Eric Von Schmidt, psychedelic drugs.
Why they'll win: They're desperate for cash. And they have more influences than the other bands.
Online: myspace.com/tylerjackanderson (Some of the solo electronic music of frontman Tyler Jack Anderson that earned the band a spot in the competition).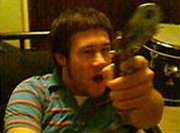 Nokulem
Genre: Experimental electronic/drum and bass
Formed: Shawnee, 2004
Sound: Spliced sampling and randomizations of rhythms to create unconventional structures intertwined with conventional melodies.
RIYL: Autechre, Squarepusher, Aphex Twin, Boards of Canada
Why he'll win: Unlike many "laptop" acts, Brandon Knocke (aka Nokulem) does a lot of mixing on the fly. Plus, he's friends with Kelpie, who won two years ago.
Online: myspace.com/nokulem